The pillow packaging machine system solution of VEICHI
Precise control, efficient operation
The pillow packaging machine system solution of VEICHI has the advantages of strong expandability, fast speed, high precision, and unlimited bag length. It can easily realize the synchronous operation of the three axes of feeding, film feeding, transverse sealing, and transverse cutting to meet different packaging needs, helping customers to effectively improve delivery efficiency and improve delivery quality.
The solution adopts VEICHI V5-MC104 motion controller and internal electronic cam to achieve synchronous and precise control of each axis. Secondly, the hardware latch function cooperates with the mature color mark correction algorithm to ensure the high-precision operation of the color mark, feeding, and cutting knife. The specially developed software and hardware filtering function effectively filters out the on-site interference signal and realizes long-term stable operation under different working conditions.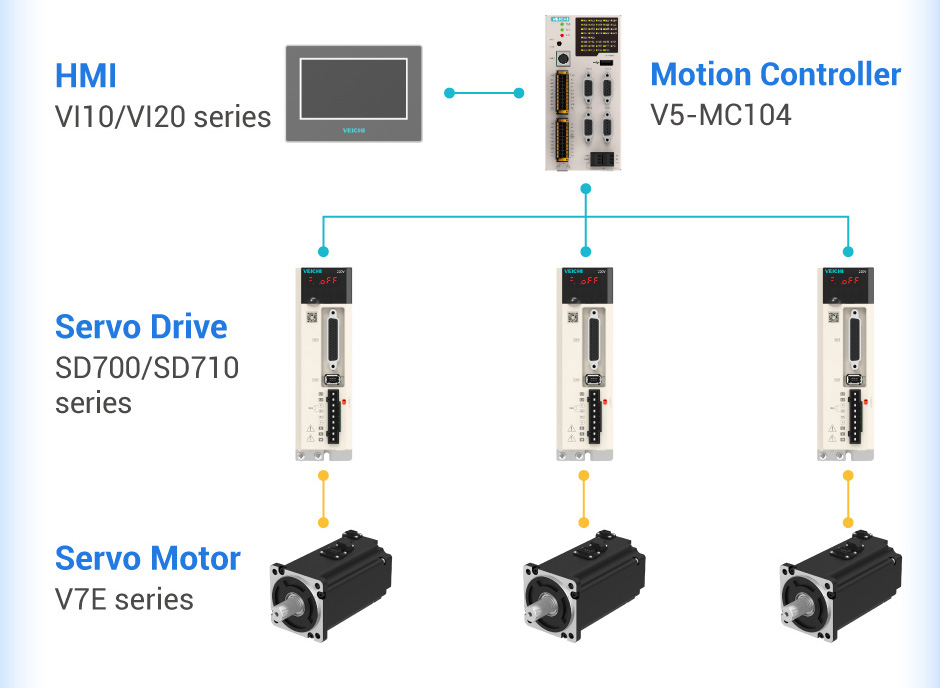 System topology
The core components of the solution include motion controllers, touch screens, servo drives, and servo motors, all of which are independently developed by VEICHI. Compatibility and reliability are excellent, making operation and maintenance more convenient, and can effectively reduce customer after-sales investment.
Four advantages, stable and reliable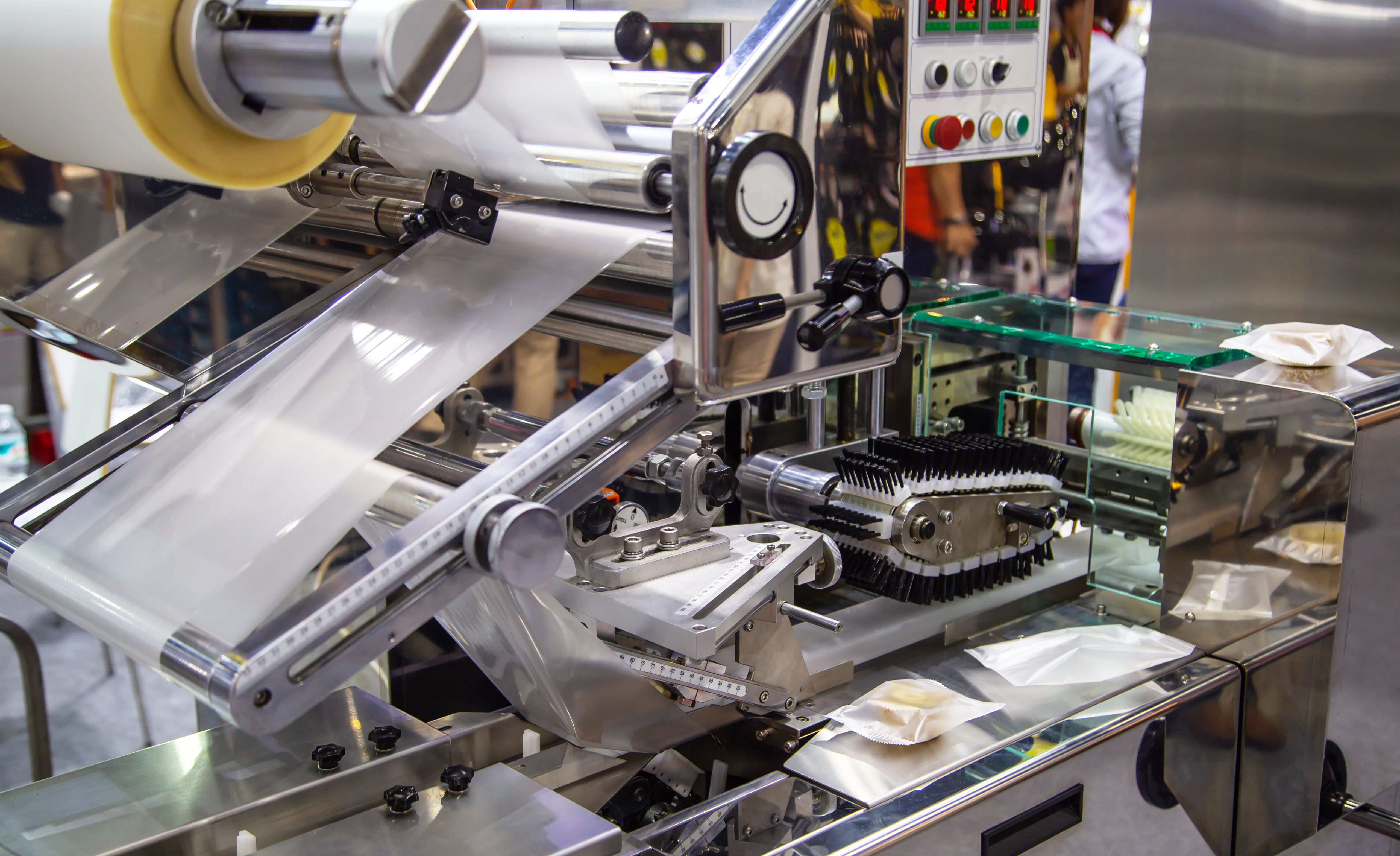 Picture of packaging machine
Excellent performance, exquisite packaging
Packaging accuracy:<±0.5mm
Packing speed:
300 packs/min (single/double knife standard machine)
1200 packs/min (five knife candy machine)
Various configurations, more choices
1. Rich packaging modes: Support fixed-length, variable-length, and continuous packaging. Meet all kinds of packaging needs.
2. Support multiple cutters: Support 1-5 cutters, seamlessly switch from 1-2 standard machines to 5-knife candy machines.
3. Support multiple languages: Support Chinese, English, Japanese, Korean, Russian, Spanish, Turkish 7 languages, which is convenient for product export.
Feature-rich, high-quality
1. Anti-cutting material: Support torque locked rotor, electronic material level error judgment, prevent material cutting, reduce scrap rate, and protect cutter.
2. Anti-aircraft bag: When there is no material in the material hook of the fork type, the packaging film and the cutter are stopped to save the packaging film.
3. Anti-scalding film: It supports setting the angle of the anti-scalding film to solve the common problem of ironing film at the material level of the belt conveyor.
4. Continuous material separation: It is suitable for belt type. When the material sticks on the belt, the material can be automatically separated to ensure the accurate material level of the packaging film.
Intimate design, convenient and easy to use
1. Automatic calculation and quick start function: It can automatically calculate the material level, measure the film length, one-key start, and single-axis shielding, which effectively simplifies the operation process.
2. Automatically write parameters: No need to manually set servo parameters, simplify the debugging process and speed up the debugging.
3. Program U disk upgrade: Both the controller and the touch screen support U disk download programs, which is convenient for batch debugging of the machine.
4. Rich metering functions: Quantitative production, quantitative restart, counting bell, multi-package production, metering start-stop, empty package removal, to meet the needs of customers for various types of metering production.