IN310 Industrial HVLS Fan Ceiling Fan Inverter
Multi-function, smooth start, ultra-quiet, small size, easy operation, energy saving and other advantages
The driver adopts the international leading field-oriented vector control technology, compatible with asynchronous and synchronous motor control
Support a variety of expansion accessories to enrich product elements
Features
Specifications
Downloads
Solutions
Cases
News
Related Products
Additional Information
IN310 Series Inverter Overview
IN310 integrated all-in-one machine is mainly composed of variable frequency drive, power-on knob switch, speed control positioner, and liquid crystal display. It is an all-in-one machine with multiple advantages, such as multi-function, smooth start-up, ultra-quiet, small size, easy operation, and energy saving.
Features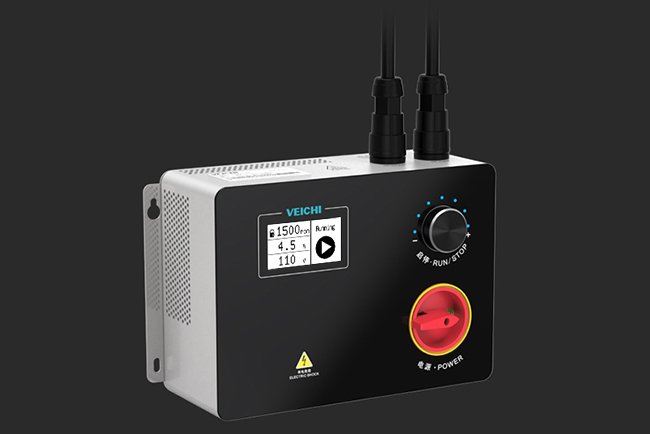 1. High-performance vector professional platform, excellent motor control algorithm.
2. Support synchronous and asynchronous motor.
3. Integration of driver and peripheral electrical equipment.
4. "A5 paper" size, flexible and compact.
5. Exquisite design, full of technology.
6. Simple operation, plug and run, no debugging required.
7. Rich expansion interface, applicable to various occasions.
8. PCB three anti-paint protection to ensure product stability and reliability.
Integrated design, Plug and Run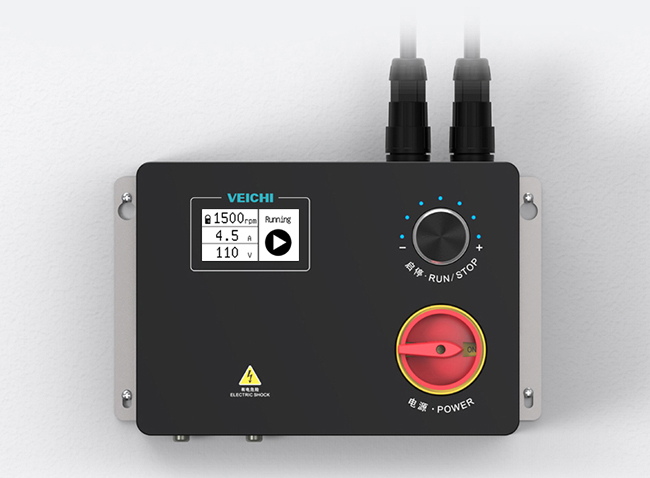 IN310 integrated: VFD,LCD,rotary switch, digital potentiometer and other related devices. No need for manual assembly, wiring and use.
Drive AM and PMSM motors
IN310 can be compatible with driving various motors such as AM and PMSM motors. Achieve system upgrades without using other drivers.
Small Body, Saving installation space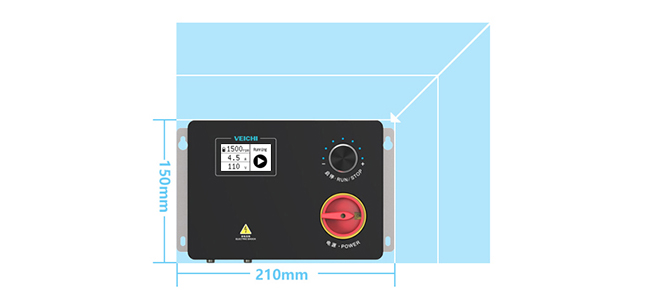 Left traditional cabinet mode, adopt mini integrated design, saving installation space.
Ultra-quiet, eliminate noise interference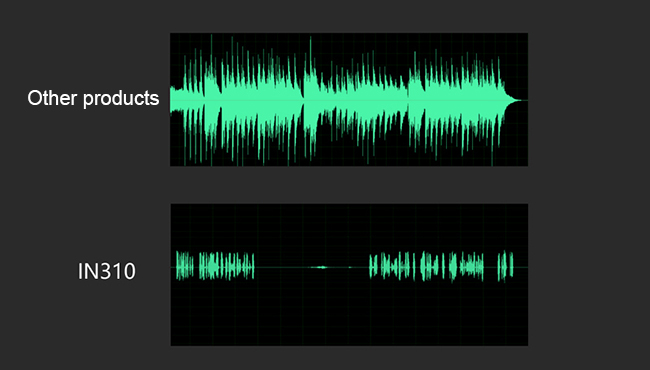 Latest noise reduction technology can reduce the electromagnetic noise during motor running. Slient operation creates a quiet environment for users.
Easy wiring, safe and reliable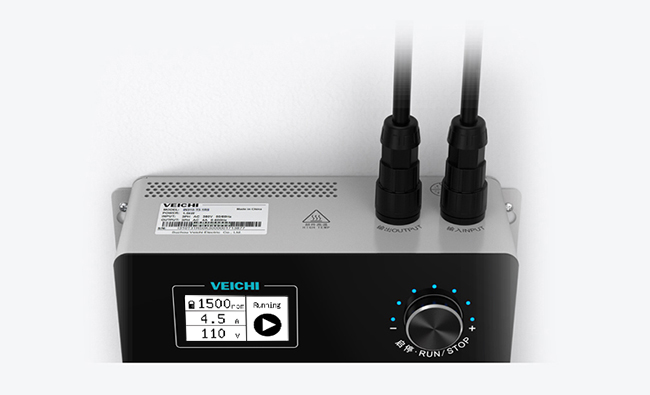 1. IP68 waterproof terminals to ensure electrical reliability.
2. Adopt top wiring, more efficiency and tidy for wiring.
Potentiometer design, simple operation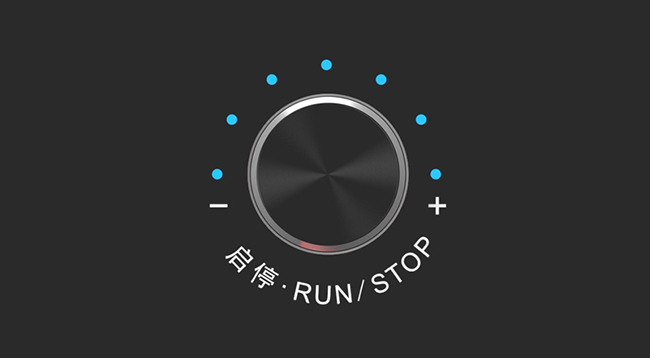 1. Just operate the potentiometer knob, easy to operate.
2. High fatigue resistance, high reliability of power-on/off.
3. Adopts digital electrical appliances, with long life.
IOT Remote Control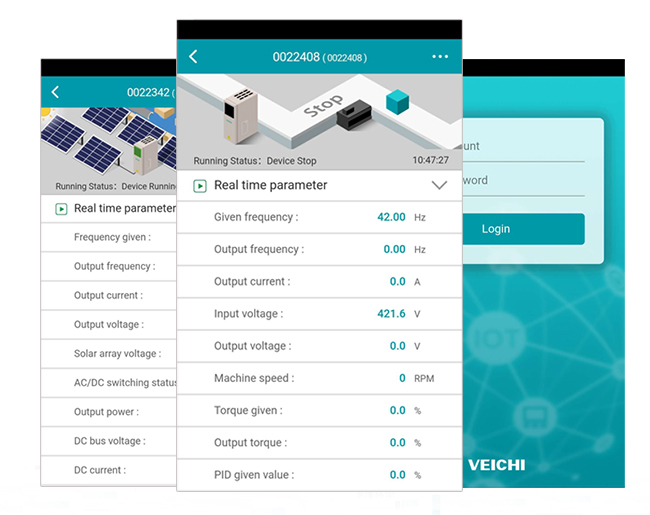 Real-time monitoring, periodic sampling, remote modification real-time location tracking, and intelligent display of location through the Internet of Things (website or mobile APP).
"Aesthetic" design, stunning products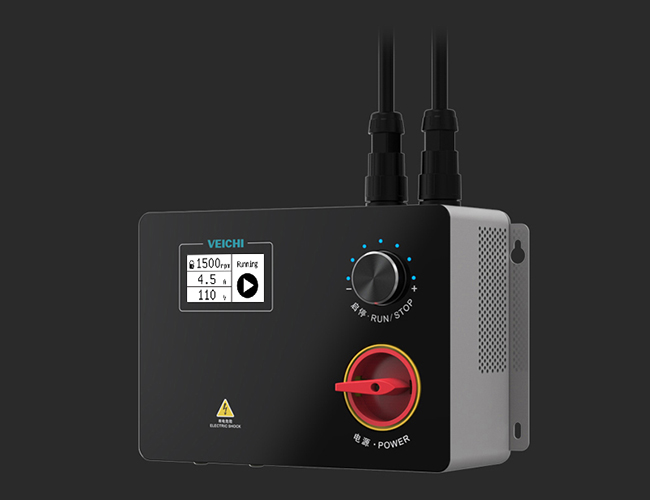 Subvert the traditional appearance design, the appearance is amazing, let the "aesthetic" products into industry and life.
LCD Display Rich Content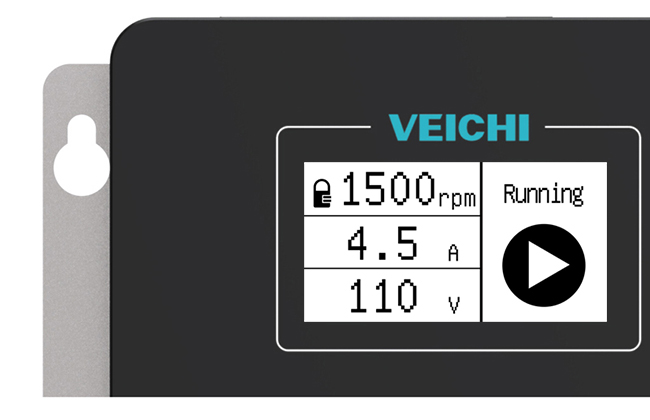 1. LCD display content: current speed, operating current, input voltage, operating status, etc.
2. "One-key operation" through the potentiometer: speed adjustment, start and stop, function selection, etc.
3. Use the indicator to judge the status of speed adjustment, power on and off.
Industrial Applications for IN310 Series Inverter
Applications:Synchronous direct-drive fan motors, asynchronous fan motors, fans, water pumps, transmission, food packaging, and other speed control applications.
Video of IN310 Inverter for Industrial HVLS Fan Ceiling
Specifications
Power Range

| | |
| --- | --- |
| Power range | 1,500 W-2,200 W |
Power Input

| | |
| --- | --- |
| Voltage frequency | Single-phase 220V 50/60Hz Three-phase 380V ~480V 50/60Hz |
| Allow fluctuations | Voltage imbalance rate: <3%; Frequency: ±5%; Distortion rate meets IEC61800-2 requirements |
| Closing surge current | Less than rated current |
| Power factor | ≥0.94(With DC reactor) |
| Inverter efficiency | ≥96% |
Output
The output voltage

Output under rated conditions: 3 phases, 0 ~ input voltage, the error is less than 5%

Output frequency range

0~600Hz

Output frequency accuracy

±0.5% of maximum frequency value

Overload capacity
Type G: 150% rated current 1min, 180% rated current 10s, 200% rated current 0.5s
Type P: 120% rated current for 1min, 140% rated current for 10s, 150% rated current for 0.5s
Main Control Performance

| | |
| --- | --- |
| Motor type | Three-phase asynchronous motor, permanent magnet synchronous motor (sine wave) |
| Motor control mode | V/F control, open loop vector control, closed loop vector control |
| Modulation | Optimize space vector PWM modulation |
| Carrier frequency | 1.0~16.0kHz |
| Speed control range | Vector control without PG, rated load 1:100; vector control with PG, rated load 1:1000 |
| Steady-state speed accuracy | Vector control without PG: ≤2% of rated synchronous speed; vector control with PG: ≤0.05% of rated synchronous speed |
| Starting torque | Vector control without PG: 150% rated torque at 0.5Hz; Vector control with PG: 200% rated torque at 0Hz |
| Torque response | Vector control without PG: <20ms; Vector control with PG: <10ms |
| Frequency accuracy | Digital setting: maximum frequency×±0.01% |
| Frequency resolution | Digital setting: 0.01Hz |
Basic Product Function
Torque control

Torque setting calculation, torque mode speed setting

Torque boost

Automatic torque increase 0.0%~100.0%; Manual torque increase 0.0%~30.0%

V/F curve

Four methods: linear torque characteristic curve, self-set V/F curve, reduced torque characteristic curve (1.1~2.0 power), square V/F curve

Acceleration and deceleration curve
Two ways: linear acceleration and deceleration, S curve acceleration and deceleration
Four sets of acceleration and deceleration time, the time unit is 0.01s, the longest is 650.00s
Rated output voltage

Using the power supply voltage compensation function, the rated motor voltage is 100%, which can be set in the range of 50 to 100% (the output cannot exceed the input voltage)

Automatic voltage adjustment

When the grid voltage fluctuates, it can automatically keep the output voltage constant

Automatic energy saving operation

Under V/F control mode, the output voltage is automatically optimized according to the load to realize energy-saving operation

Automatic current limit

Automatically limit the current during operation to prevent frequent over-current fault trips

Instantaneous power failure processing

In case of instantaneous power failure, uninterrupted operation is realized through bus voltage control

Standard function

Speed tracking, restart after power failure, jump frequency, frequency upper and lower limit control, program operation, RS485, parameter access level setting, common parameter setting

Frequency setting channel

Keyboard number setting, keyboard potentiometer, communication setting

Run command channel

Button key setting, communication setting
Protective Function

| | |
| --- | --- |
| Protective function | Overvoltage, undervoltage, current limiting, overcurrent, overload, electronic thermal relay, overheating, overvoltage stall, data protection, fast protection, input and output phase loss protection |
Keyboard Display

| | |
| --- | --- |
| LED display | rmp (output speed), A (running current), V (input voltage), running status, whether "output speed" is locked, fault interface, etc. |
| Parameter copy | The function code information of the inverter can be uploaded and downloaded to realize fast parameter copy |
| Status monitoring | Input voltage, output current, output speed |
| Error alarm | Overvoltage, undervoltage, overcurrent, short circuit, phase loss, overload, overheating, overvoltage stall, current limit, data protection damaged, current fault operation status, historical fault record. |
Surroundings
Installation site
If the altitude is lower than 1000 meters, derating for use above 1000 meters, derating by 1% for every 100 meters
No condensation, icing, rain, snow, hail, etc., solar radiation less than 700W/m2, pressure 70~106kPa
Temperature and humidity
From -10℃ to +50℃, derating can be used above 40℃, the maximum temperature is 60℃ (no-load operation)
5% ~ 95%RH(No condensation)
vibration

When 9~200Hz, 5.9m/s2(0.6g)

Storage temperature

From -30℃ to +60℃

Installation method

Wall-mounted, vertical cabinet

Protection level

IP20

Cooling method

Forced air cooling
Downloads
| File Name | Type | Language | File Type | Update | Download |
| --- | --- | --- | --- | --- | --- |
| IN310 HVLS Fan Inverter Catalog | Catalog | English | PDF | 2021-08-30 | 2.41MB |
Buyers who liked this product also liked
You may also be interested in