GS20 General Pump Drive
New Appearance,Narrow Body Structure
Motor protection function
Perfectly drive a variety of pump motors
Easy to Debug and Rich in Expansion
Features
Specifications
Downloads
Solutions
Cases
News
Related Products
Additional Information
GS20 General Pump Drive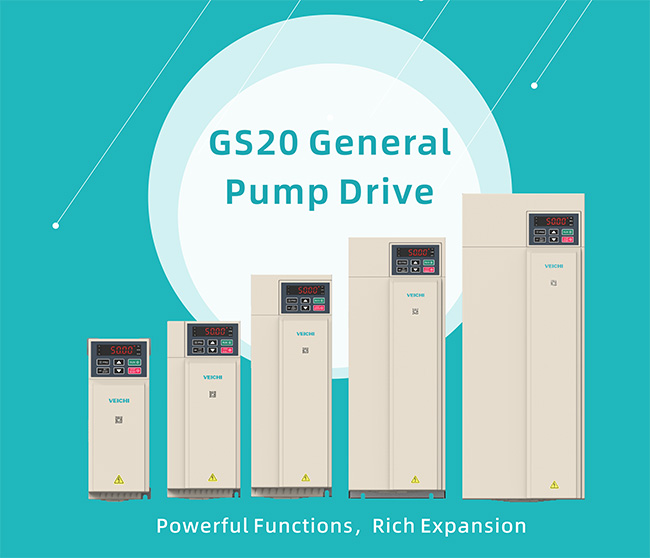 New Appearance,Narrow Body Structure
1. Book narrow body structure, maximum space saving 60%.
2. New keyboard design, simple appearance and easy operation.
3. European terminal blocks, convenient and efficient wiring.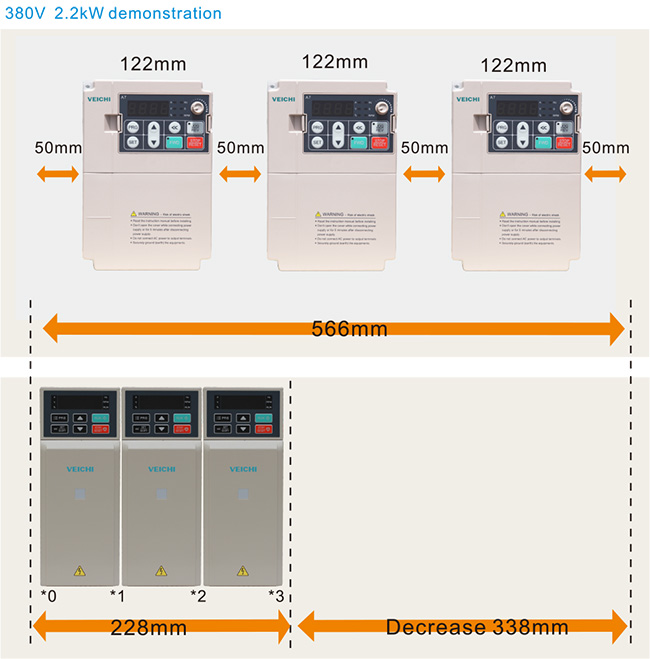 Motor protection function
Multiple inverter basic protection functions;Water pump exclusive protection function(water shortage protection,high and low pressure protection,leakage protection,anti-freeze embroidery protection, sensor disconnection protection).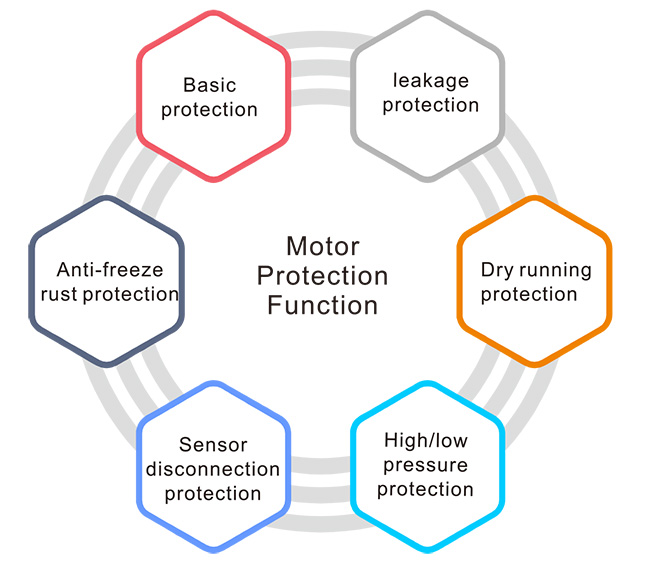 Multiple pump control
1. The pressure of the pipe network is detected by the host and sent to the auxiliary machine. When the pressure is not enough, the auxiliary machine starts and runs according to the set frequency, and the main machine performs constant pressure PID adjustment.
2. The main and auxiliary machines altemately run in sequence at regular intervals to realize the uniform use of the water pump and extend the life of the water pump.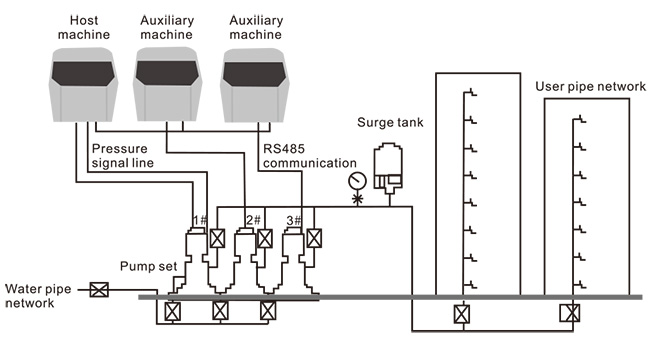 Perfectly drive a variety of pump motors
Perfectly drive a variety of water pump motors such as asynchronous, permanent magnet synchronous, synchronous reluctance, etc.

Multiple water supply functions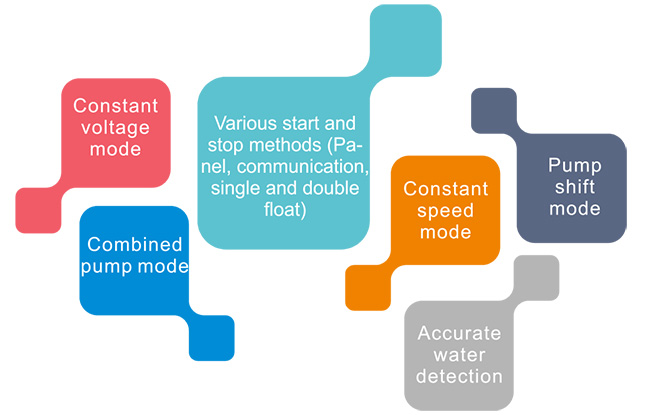 Smart IOT
1. Support GPS positioning. wifidata connection, offline data storage.
2. Unattended, real-time, remote control.
3. Big data analysis, calculation of cumulative power generation and flow.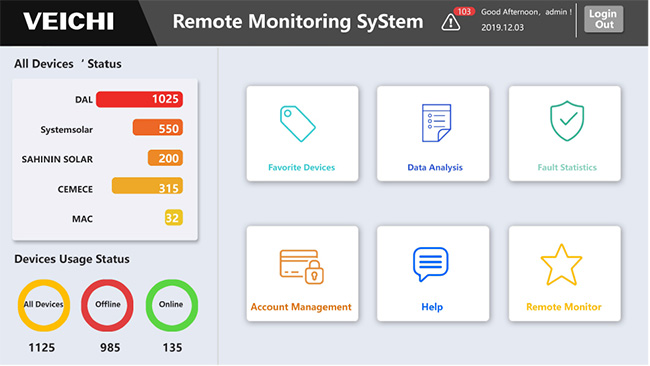 Easy to Debug and Rich in Expansion
1. Professional PC software, one-key reading of debugging parameters.
2. Virtual oscilloscope reads data accurately.
3. Support ModBus, SPI. GPRS, PG card and other expansion interfaces.
GS Series Pump Drive Video
Industrial Applications for GS20 General Pump Drive
Applications: Farmland irrigation, residential water, landscape fountains, swimming pool water supply, desert management.
Specifications
Power Input

| | |
| --- | --- |
| Voltage, Frequency | Single phase :220V 50/60Hz;Three phase: 220V 50/60Hz; Three phase 380V 50/60Hz |
| Allow fluctuations | voltage unbalance rate:<3%; Frequency:±5%; aberration rate: as IEC61800-2 required |
| Inrush current | Lower than rated current |
| Power factor | ≥0.94 (with DC reactor) |
| Inverter efficiency | ≥96% |
Output
Output voltage

Output under rated condition: 3 phase, 0~input voltage, deviation<5%

Output frequency range

G type:0~600Hz

Output frequency accuracy

Max frequency ±0.5%

Overload capability
G type: 150% rated current/1 min, 180% rated current/10s, 200% rated current/0.5s
P type: 120% rated current/1 min, 140% rated current/10s, 150% rated current/0.5s
Main Control Perform-ance

| | |
| --- | --- |
| Motor type | Three-phase asynchronous motor; Permanent magnet synchronous motor (sine wave) |
| Motor control mode | V/F control, Open loop vector control, Closed loop vector control |
| Modulation | Optimizing Space Voltage Vector PWM Modulation |
| Carrier frequency | 1.0~16.0kHz |
| Speed control range | No PG vector control, rated load 1:1000 |
| Steady speed accuracy | VC without PG: ≤2% rated synchronized speed; VC with PG: ≤0.05% rated synchronized speed |
| Starting torque | VC without PG: 150% rated torque at 0.5Hz; VC with PG: 0Hz, 200% rated torque at 0Hz |
| Torque response | VC without PG:<20ms; VC with PG: <10ms |
| Frequency accuracy | Digital setting: max frequency×±0.01%; Analog setting: max frequency×±0.2% |
| Frequency resolution | Digital setting: 0.01Hz; Analog setting: max frequency×0.05% |
Basic Product Function

| | |
| --- | --- |
| Torque Control | Torque setting calculation, torque mode speed limit |
| DC braking capability | Starting frequency:0.00~50.00Hz; Braking time:0.0~60.0s; Braking current:0.0~150.0% rated current |
| Torque boost | Automatic torque boost 0.0%~100.0%; Manual torque boost 0.0%~30.0% |
| V/F curve | Four modes: linear torque characteristic curve, self-set V/F curve, torque reduction characteristic curve (1.1 to 2.0 power), square V/F curve |
| Acce. / Dece. curve | 2 modes: linear Acceleration/Deceleration and S curve Acceleration/Deceleration. 4 sets of ACC/DEC, time unit 0.01s selectable, longest time: 650.00s |
| Rated output voltage | Using the power supply voltage compensation function, the rated voltage of the motor is 100%, which can be set within the range of 50 to 100% (the output cannot exceed the input voltage) |
| Automatic voltage adjustment | While power supply voltage fluctuates, it can auto-keep constant output voltage |
| Automatic energy saving operation | While under V/F control mode, according to load situation, auto-optimize output voltage to save energy |
| Automatic current limiting | Auto-limit the current while running to prevent over current break trouble |
| Instant power off treatment | Uninterrupted operation through bus voltage control during instantaneous power loss |
| Standard function | PID control, speed track, power off restart, jump frequency, upper/lower frequency limit control, program operation, multi- speed, RS485, analog output, frequency impulse output |
| Frequency setting channel | Keyboard digital setting, Analog voltage/current terminal AI1, Analog voltage/current terminal AI2, Communication given and multi-channel terminal selection, Main and auxiliary channel combination, expansion card, supporting different modes switch. |
| Feedback input channel | Voltage/Current Terminal AI1, Voltage/Current Terminal AI12, Communication given, Low-speed pulse input PUL, extension card |
| Run command channel | Operation panel given, external terminal given, communication given, expansion card given |
| Input command signal | Start, stop, FWD/REV, JOG, multi-step speed, free stop, reset, ACC/DEC time selection, frequency given channel selection, external fault alarm |
| External output signal | 1 relay output, 1 collector output, 1 AO output: 0~10V output or 4~20mA output |
Protective Function

| | |
| --- | --- |
| Protective function | Overvoltage, under-voltage, current limit, over-current, overload, electric thermal relay, overheat, overvoltage stall, data protection, rapid speed protection, input/output phase failure protection. |
Keyboard Display
LED display
Built-in keyboard: single line 5- digital tube display: monitor 1 inverter status quantity
External keyboard: double line 5- digital tube display: monitor 2 inverter status quantities
Parameter copy

Upload and download function code information of the inverter for fast parameter copying

Status monitoring

Output frequency, given frequency, output current, input voltage, output voltage, motor speed, PID feedback, PID given value, module temperature etc. monitor parameters

Error alarm

Over-voltage, under-voltage, over-current, short circuit, phase failure, overload, overheat, overvoltage stall, current limit, or Data protection compromised, current fault health, historical fault record.
Surroundings
Installation place
The altitude is less than 1000 meters, and the derating is more than 1000 meters. The derating is 1% for every 100 meters
No condensation, icing, rain, snow, sputum, etc., solar radiation is less than 700W/m2, air pressure 70~106kPa
Temperature humidity
-10 ~ +50°C, derating can be used above 40 °C, the maximum temperature is 60 °C (no-load operation)
5% to 95% RH (no condensation)
Vibration
9~200Hz,5.9m/s2(0.6g)
5%—95%RH (no condensation)
Storage temperature

-30~+60℃

Installation method

Wall hanging

Protection level

IP20

Cooling method

Forced air cooling
Downloads
| File Name | Type | Language | File Type | Update | Download |
| --- | --- | --- | --- | --- | --- |
| Smart Pump Drive Catalog V1.0 | Catalog | English | PDF | 2022-05-12 | 36.67MB |