AC310 Frequency AC Drive VFD in Floor Grinding Machine in Shanghai, China
Introduction
Related Products
Related Solutions
Other Related Cases
Additional Information
Contact us
Product Overview
Floor grinding machine is mainly used for the ground grinding treatment, which can effectively polish terrazzo, concrete surface, epoxy cement mortar and the old epoxy floor, featuring functions of portability, flexibility and high working efficiency.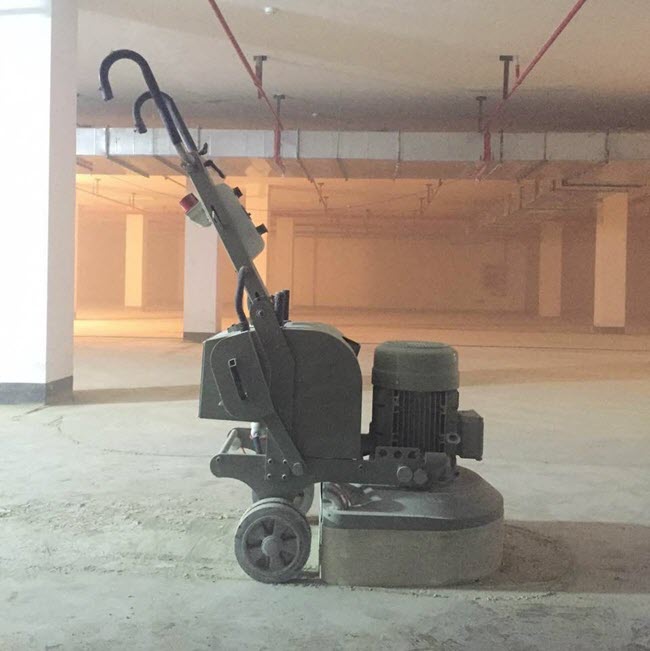 Structure
1. Handle and regulator
2. The dry grinder is equipped with external connections for dry grinding and dust removing as well as the protective cover; the water grinder is equipped with water supply system.
3. Grinding disc and sheet: it has direct contact with the construction surface for grinding and the grinding sheets can be changed according to different construction surfaces.
4. Counterweight iron: according to the grinding strength of the construction ground, it's used to add and subtract weights.
Motors and inverters are generally configured with 1:1, such as the three-phase 380V 15KW motor with 15KW inverter. For higher grinding strength and overload capacity, a higher configuration is needed. The general power input is three-phase AC 380V.
Wiring diagram: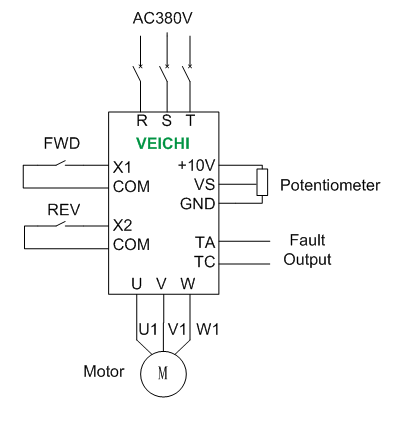 Application Cases
A company in Jiading Shanghai adopts VEICHI AC310 frequency AC drive VFD to match their floor grinding machine with 15KW motor, which can normally work at 1000r/min. The machine can normally operate with 100um grinding sheets; if changed to 30um, the machine will alarm OL2 fault in 5Hz, while the fault has function of self-recovery. After lightening the load (counterweight iron), the floor grinding machine can go back to normal operation.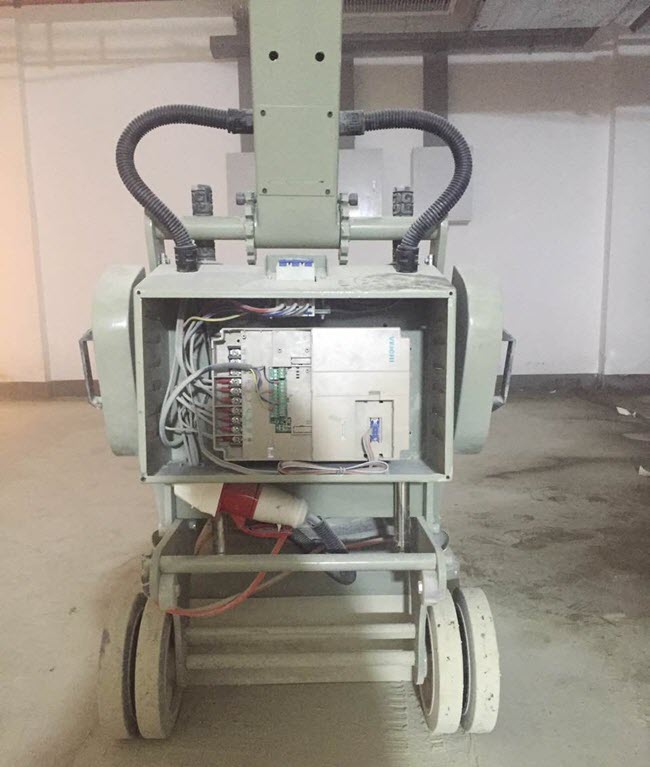 Client's requirements:
(1) When with 30um disc sheets, the machine won't alarm OL2 fault and can be started by single operator.
(2) To increase the loading capacity but turn down the under-voltage protection point.
(3) To realize fast stop by changing the stopping way.
(4) No need manual reset to the machine fault.
Parameter Setting: adjusting the related parameters (torque increase, stopping way, fault self-recovery, under-voltage protection and G/P model )
| | | | | | |
| --- | --- | --- | --- | --- | --- |
| Function code | Setting | Explanation | Function code | Setting | Explanation |
| E-00 | 1 | V/F control | E-34 | 1 | Freely stopping |
| E-01 | 1 | Terminal control | E-43 | 2 | Twice fault self-recovery |
| E-02 | 2 | VS1 voltage signal | E-44 | 2 | 2s intervals before fault self-recovery |
| E-13 | 20 | 20S | E-55 | 60 | 60% of the under-voltage bus protection value |
| E-18 | 8 | Torque increased by 8% | E-61 | 1 | P model: 18.5KW |
Attention: the value of E-18 needs to be reset after every modification of G/P model.