VEICHI VC5 Series PLC Provides Intelligent Solutions for Slicers
With the development of Intelligent Manufacturing, the demand for automation in the manufacturing industry continues to increase, and the PLC application in the field of industrial control is becoming more and more widespread. Networked, highly reliable, high speed and multi-functional PLCs are highly favored by customers, which can realize automatic control of production processes, reduce manpower loss and improve production efficiency.
VEICHI keeps up with the market demand and launches the new VC5 series EtherCAT bus PLC, which has the advantages of powerful motion control, 7 major ports protocol access, multi-module function expansion, new host computer programming software, etc. With high reliability, fast response and easy operation, it meets a variety of application scenarios and can provide customers with intelligent system solutions.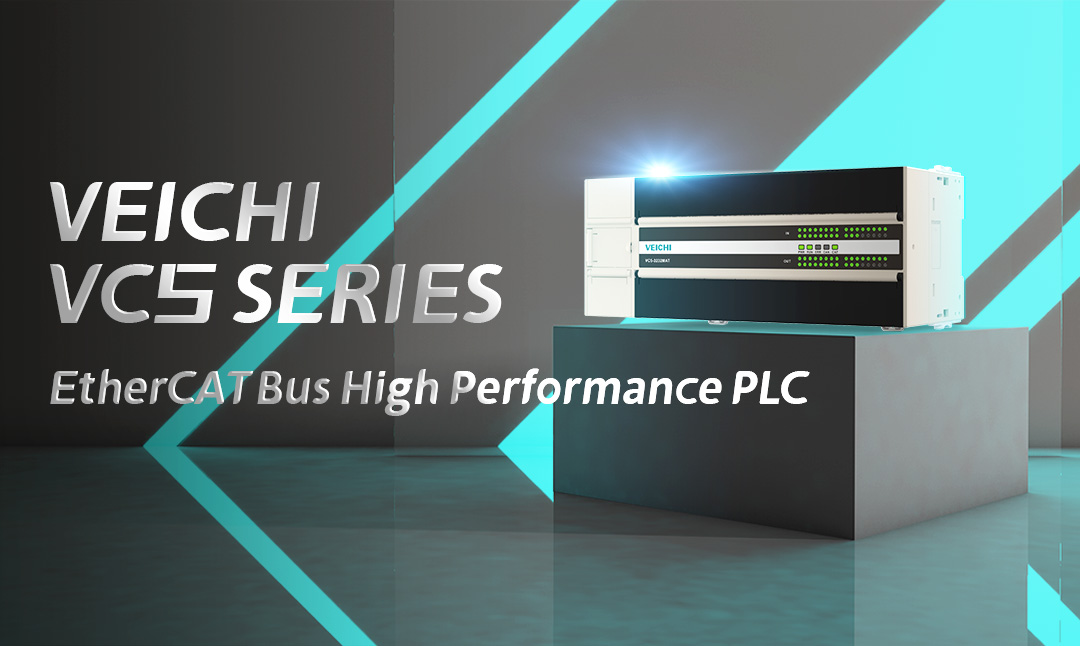 VC5 SERIES EtherCAT Bus High Performance PLC
Recently, in response to the customer's demand for upgrading the slicer to reduce work intensity and improve production efficiency, VEICHI provides a 17-axis four-station slicer control system solution with VC5 series EtherCAT bus PLC, which can achieve high speed, high precision and high stability, control the process of material discharge, gripping, feeding and slitting, helping the customer to expand production capacity and enhance production efficiency.
Self-developed Technology Upgrade
The control system, interactive interface, drive and servo motor of the solution are all self-developed by VEICHI. The core components include VC5 series bus high-performance PLC, SD710 EtherCAT bus servo drive and VI20 HMI. Compared with the traditional slicer, the 17-axis four-station slicer has the advantages of good compatibility, strong anti-interference ability and rich functions, which can effectively improve the slicing efficiency and quality.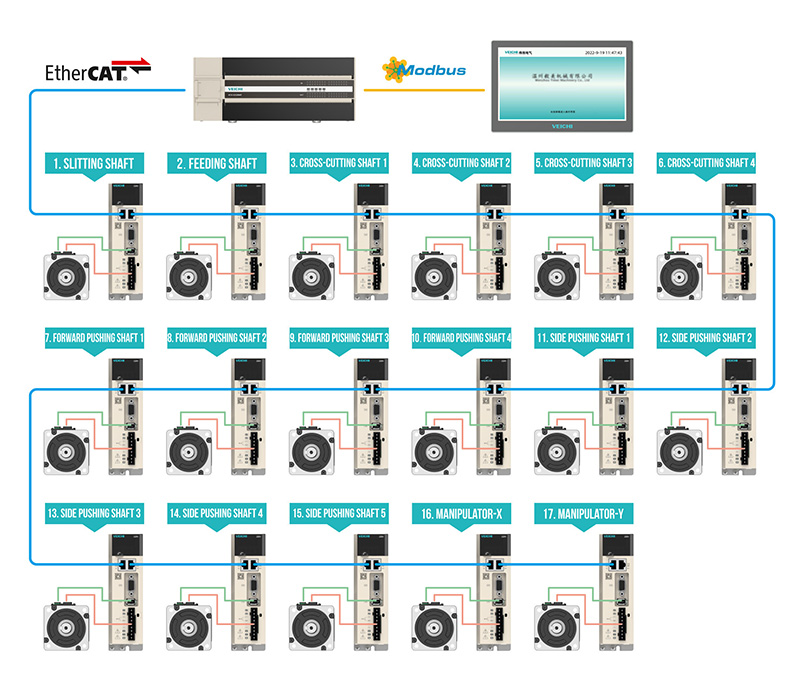 Solution for 17-axis Four-station Slicer
Intelligent and Efficient with Core Advantages
1.High Precision Control System
The control system of the solution adopts VC5 series bus high-performance PLC with dual-core technical framework and powerful motion control capability, which can achieve the fastest communication cycle of 250μs, synchronization time accuracy of ±80ns, and EtherCAT bus motion control of 32 real axes. The 17-axis servo multi-station runs at high speed, saving more time for customers.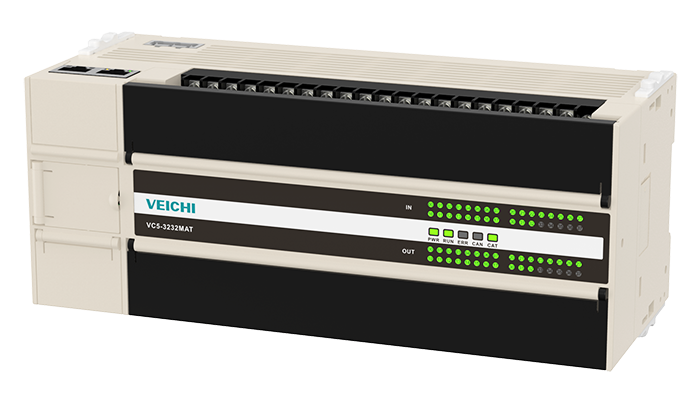 VEICHI VC5 Series PLC
Features:
1. User program space supports 200K steps.
2. Supports 32 real axes and 32 to 64 imaginary axes.
3. Supports linear interpolation and circular interpolation, as well as electronic cam and electronic gear function.
4. Adjustable communication cycle from 250μs to 8ms, synchronization time accuracy of ±80ns.
5. LD, SFC, FB function block instructions and other programming methods.
6. The main body can be expanded to 15 modules.
7. RS485, CAN, Ethernet and EtherCAT, the interface can realize multi-level network communication.
8. 8 channels of 200kHz high-speed input counting and 8 channels of 200kHz high-speed output.
2.Human Machine Interface
The system conveys demand instructions through VI20 HMI. The main operation interface contains alarm display, output display, equipment reset and other functions, so it's easy to monitor the production. In the parameter interface, it can complete the adjustment and setting of process control parameters and real-time monitoring of machine running status. Touch screen with control buttons can quickly control the start/stop of the corresponding functions, reducing the intensity of workers' operation and improving the accuracy.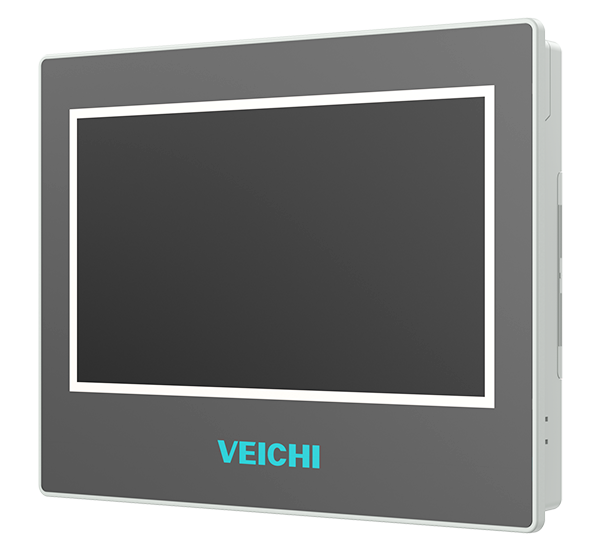 VEICHI VI20 Series HMI
Features:
1. Using high-definition, high-brightness display LCD, the maximum viewing angle reaches 170 degrees.
2. 300+ protocol local resolution, supporting MQTT.
3. VPN and routing functions, also with data storage function.
4. PLC remote download. & Data configuration.
5. Historical data query.
6. Alarm configuration.
7. Configuration and map monitoring.
8. Data report & Mobile App.
3.Multi-function Drive Settings
The SD710 series EtherCAT bus servo is selected as the solution drive module. With its features of less wiring, fast response, wide speed range, high positioning accuracy, good transmission rigidity and high speed stability. It can realize the functions of slitting and fixed-length feeding, forward pushing and cross-cutting feeding, cutting with reducer drive, robot X/Z axis moving position and other functions to meet the needs of automatic slicing.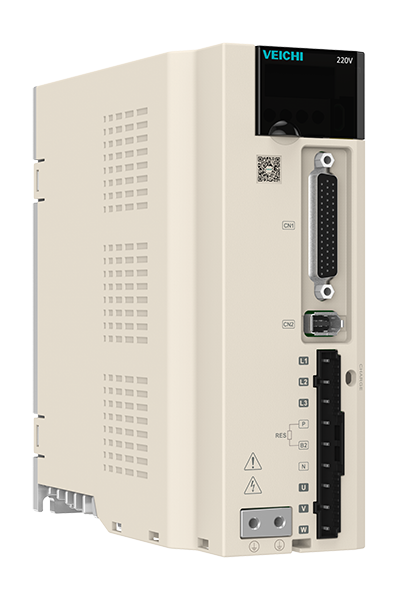 VEICHI SD710 Servo Drive
Features:
1. Compatible with 17bit/23bit absolute encoder, suitable for different scenarios.
2. Standard Micro USB host computer dedicated interface; Standard RS485 communication; Optional CANopen, EtherCAT communication.
3. It can be widely used in 3C, woodworking, packaging, printing, logistics, food, textile and other automation industry equipment.
4. Step by step installation guide makes servo application easier.
5. The debugging software has the function of copying the drive parameters, eliminating the tedious operation of parameter setting of the same model.
6. Upgraded hardware and structure, smaller size.
7. Equipped with absolute value encoder, power-off memory position, battery life over 3 years. Configured with different resolution encoders to meet different application options.
8. Intelligent control for automatic parameter adjustment.
Practice proves that the powerful motion control capability of VEICHI VC5 series EtherCAT bus PLC enables the slicer to maintain high stability and high precision cutting under high speed conditions, which greatly improves production efficiency and reduces labor cost, and is highly recognized by customers.
In the future, VEICHI will continue to follow the development trends of various industries, rely on the R&D technology advantages and rich industrial application experience in the field of motion control, continuously expand the application scenarios, provide customers with reliable, high precision and high speed products and solutions, help customers upgrade their production lines, and promote the development of the manufacturing industry in the direction of refinement and intelligence.