VM Series Flexible Remote Module
Max 16 modules supported
New generation of bus speed raised to 100mbps
2/3 cabinet space saved off
D-BUS with two sides of the connecting fingers attached together for higher stability
Features
Specifications
Downloads
Solutions
Cases
News
Related Products
Additional Information
VM Series Flexible Remote Module Overview
VM series flexible remote module is the new generation among extension modules from Veichi, featuring light weight, fast signal acquisition, easy assembly, and high reliability. It is suitable for common bus networks with microsecond-level response speed. VM series flexible remote modules are available in a wide range of models, added with its excellent continuous operation performance and high responsiveness, to meet the various needs of industrial control automation.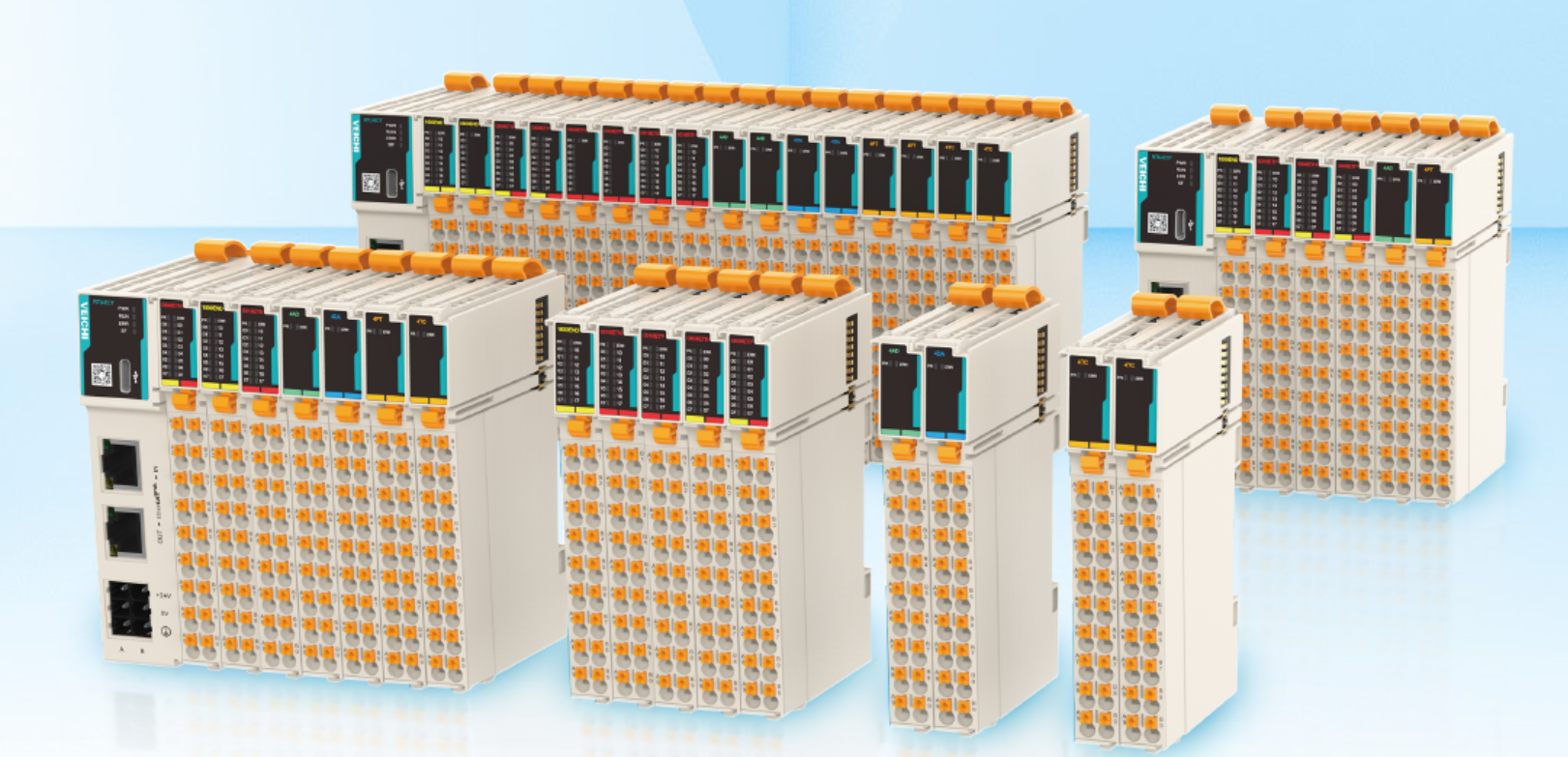 Compact and lightweight module design,reducing the burden on electrical cabinets
For industrial control scenarios with strict size requirements, such as lithium batteries and semiconductor fields, PLC, as an important application component in manufacturing equipment, the compact and lightweight module design provides a more economical and convenient expansion method while saving space in electrical cabinets.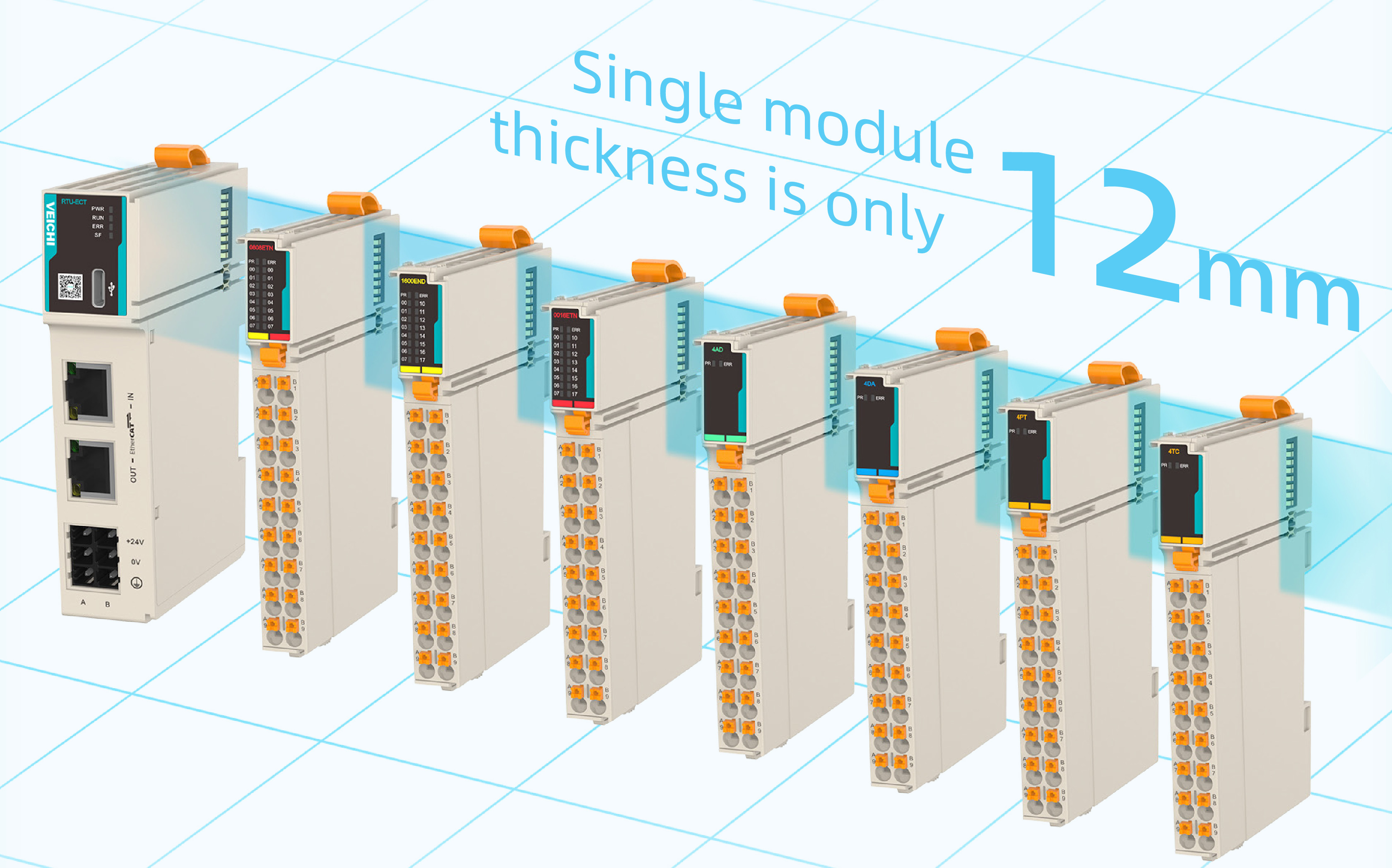 EtherCAT bus design, unrestricted communication
Adopting EtherCAT bus communication interface, multiple communication modules can be used, and each coupler supports up to 16 expansion modules. This allows for convenient communication access in complex application scenarios.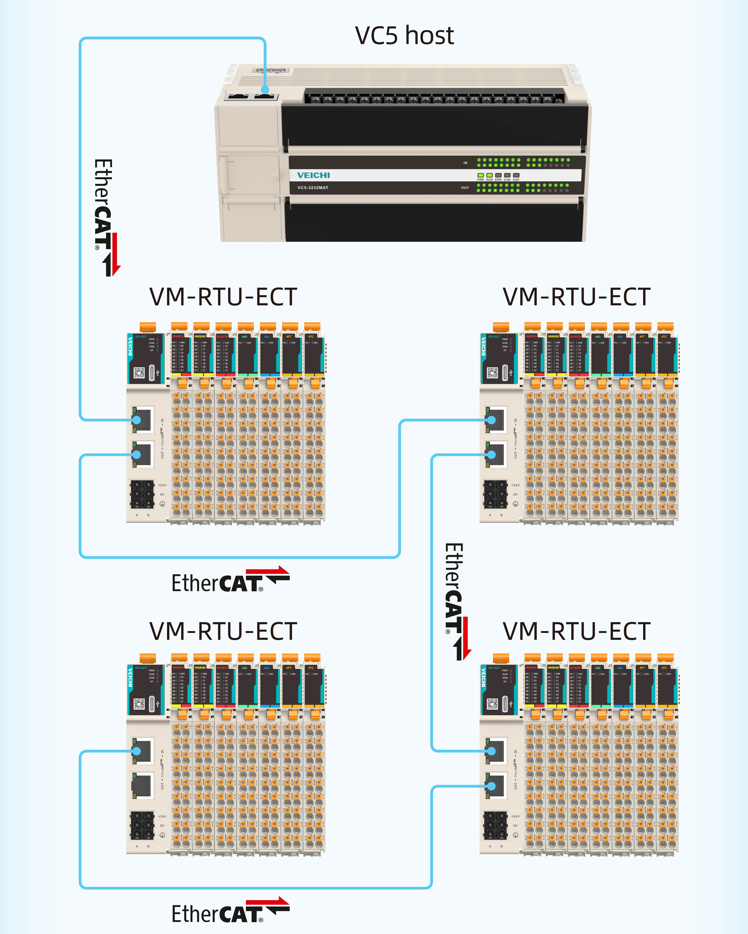 Profinet slave design, high system adaptability
Equipped with PN Slave, compatible with PROFINET Master devices, and can establish communication with up to 16 VM series flexible remote IO modules, easily achieving various system configurations.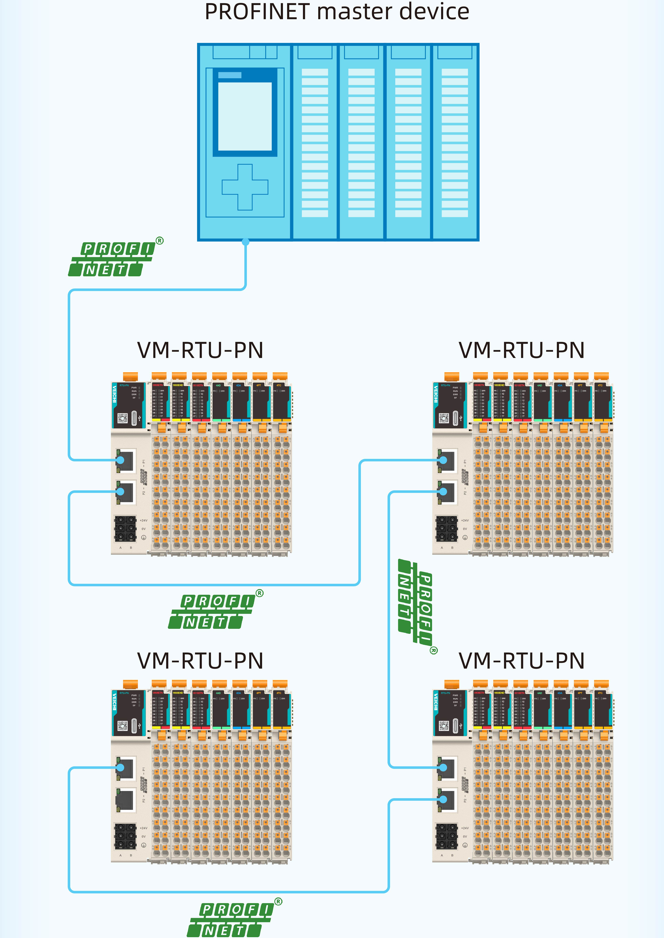 Real-time data transmission, microsecond-level response
Based on EtherCAT bus communication technology, real-time control and real-time data transmission of the stepper system are achieved, achieving microsecond-level response. The minimum communication cycle can reach 125μs, and the synchronization cycle is 125μs~8ms, with a synchronization jitter of ±80ns.
Plug and play, easy installation
Plug-in rail installation allows for easy connection between components, and the plug heads can be easily matched with terminal base, enabling quick modular installation and improving wiring flexibility.
Optimize the wiring process, improve efficiency
Compared to complex wiring processes, the new modules adopt a Push-in terminal design, eliminating the need for specific wiring tools. The wiring process is quick and easy, saving time and effort. In case of any fault issues, the detachable terminal design allows for easy separation from the base, greatly improving replacement efficiency.
Diverse module options, versatile assembly
The modules offer a wide range of options, supporting various DI/DO, AI/AO, thermal resistance sensors, thermocouple sensors, and more. They are easy to assemble and feature color-coded markings for easy identification and confirmation.
Suitable for various scenarios, providing more possibilities
With the new demands faced by the manufacturing industry in the era of Industry 4.0, the new generation VM series flexible remote module will be widely applied in fields such as energy storage lithium batteries, printing and packaging, semiconductors, metal processing, and non-metal processing.
In the future, Veichi will rely on its strong motor drive, power electronics, and motion control technologies to continuously provide industrial control automation products and comprehensive system solutions for various industries, supporting the transformation and upgrading of traditional manufacturing industries.
VM Series Flexible Remote Module video
Specifications
VM Series Flexible Remote Extension Module Models

| Model | Description |
| --- | --- |
| VM-RTU-ECT | Programmable controller EtherCAT (auto-scan) communication module: coupler |
| VM-RTU-PN | Programmable controllers PROFINET communication module : coupler |
| VM-1600END | 16-way digital input module |
| VM-0800END | 8-way digital input module |
| VM-0016ETN | 16-way digital transistor NPN output module |
| VM-0016ETP | 16-way digital transistor PNP output module |
| VM-0808ETN | 8-way digital input module and 8-way digital transistor NPN output module |
| VM-0808ETP | 8-way digital input module and 8-way digital transistor PNP output module |
| VM-0008ETN | 8-way digital transistor NPN output module |
| VM-0008ETP | 8-way digital transistor PNP output module |
| VM-4AD | 4-way analog input module |
| VM-4DA | 4-way analog output module |
| VM-4PT | 4-input RTD temperature detection module |
| VM-4TC | 4-input RTD temperature detection module |
Digital Input Module Specification
Signal input method

Source/Drain setting via S/S terminal

Isolation requirement

Insulated isolation with opto-coupler

Input voltage

24VDC

Input current

Typical 4mA

Input impedance

Reference value 6k

ON voltage

>15V DC

OFF voltage

<5V DC

Response time

100us

Software filter time
Filter time group selection (none 0.25ms, 0.5ms, 1ms (factory setting), 2ms, 4ms, 8ms,
16ms, 32ms)
Ambient working temperature

-20℃~55℃

Rated current of bus input power supply

100mA (typical at 5V DC)

Module hot-swapping

None
Digital Output Module Specification

| | |
| --- | --- |
| Signal output method | Source/Drain on different models |
| Isolation requirement | Insulation isolated with opto-coupler Input voltage |
| Output voltage | 24Vdc |
| Output load (resistive load) | 0.5A/interface, 2A/ module |
| Output load (inductive load) | 7.2W/ interface, 12W/module |
| Output load (lamp load) | 5W/interface, 9W/module |
| Response time | 100us |
| Motion indicator | Indicator on when the optocoupler is driven |
| Leakage current in open circuit | < 0.1mA/30Vdc |
| Min. load | 5mA(5~24Vdc) |
| Protection | Short-circuit protection |
| Ambient working temperature | --20℃~55℃ |
| Rated current of bus input power supply | 100mA (typical at 5V DC) |
| Module hot-swapping | None |
Buyers who liked this product also liked