AC70S Special Drive for Construction Elevator
No need to change the inverter parameters, as long as the wires are correctly connected, it can operate normally after turning on the machine.
Accurate landing can be achieved at any speed;
The keyboard operator can display upper and lower limit, ascending and descending signals, which is convenient for system maintenance;
Smooth operation, no impact, reduce the abrasion of the mechanical structure and vulnerable parts;
Features
Specifications
Downloads
Solutions
Cases
News
Related Products
Additional Information
Product Introduction
A drive with a docking function specially designed for the transformation of old elevators. Integrating frequency converter, brake module, and status indicator, it is convenient for on-site maintenance of equipment and minimizes the cost of frequency conversion transformation of construction elevator.
Features
1. Safe and reliable: The special brake logic control function, through the release frequency and the release current colleague to reach the brake, to ensure its safety and reliability.
2. High performance-price ratio: Compared with a complete set of inverter cabinets, the price is cheaper and the performance is equivalent.
3. Humanized design: No need to change the inverter parameters, as long as the wires are correctly connected, it can operate normally after turning on the machine.
4. The transformation is simple: no need to add deceleration limit devices, no replacement of the operating table; accurate landing can be achieved at any speed.
5. Convenient maintenance: The keyboard operator can display upper and lower limit, ascending and descending signals, which is convenient for system maintenance.
6. Extend the mechanical life: smooth operation, no impact, reduce the abrasion of the mechanical structure and vulnerable parts, prolong the use time of the motor and disc brake, and effectively increase the service life of the construction elevator.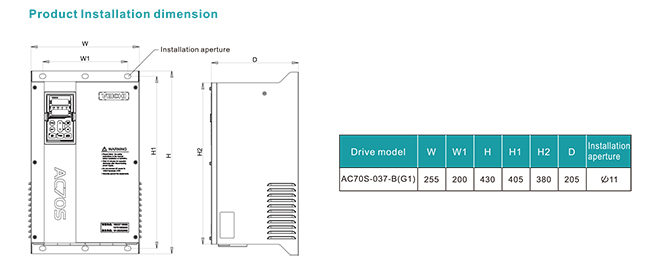 Industrial Applications for AC70S Special Drive for Construction Elevator
Applications:Construction elevator.
Specifications
Power Range

| | |
| --- | --- |
| Power range | 30,000 W-37,000 W |
Power Input

| | |
| --- | --- |
| Voltage frequency | Three-phase 380V 50/60Hz Three-phase 220V 50/60Hz |
| Allowable fluctuation | Voltage: 320V~440V; Voltage imbalance rate: <3%; Frequency: ±5% The distortion rate meets the requirements of IEC61800-2 |
Output

| | |
| --- | --- |
| The output voltage | Output under rated conditions: 3 phases, 0~input voltage, error less than 5% |
| Output frequency range | 0~120Hz |
| Output frequency accuracy | ±0.5% of the maximum frequency value |
| Overload capacity | 150% rated current 60s, 180% rated current 10s, 200% rated current 0.5s |
Main Control Performance

| | |
| --- | --- |
| Motor control mode | Vector control without PG, vector control with PG, V/F control |
| Carrier frequency | 0.6~15.0kHz, random carrier modulation |
| Speed control range | Vector control without PG, rated load 1:100 Vector control with PG, rated load 1:1000 |
| Steady-state speed accuracy | Vector control without PG: ≤1% of rated synchronous speed Vector control with PG: ≤0.02% of rated synchronous speed |
| Starting torque | Vector control without PG: 180% rated torque at 0.5 Hz: Torque Vector control with PG: 200% rated torque at 0 Hz |
Basic Functions of the Product

| | |
| --- | --- |
| DC braking capability | Starting frequency: 0.00~50.00Hz Braking time: 0.0~60.0s Braking current: 0.0~150.0% of rated current |
| Rated output voltage | Using the power supply voltage compensation function, the rated motor voltage is 100%, which can be set in the range of 50-100% (the output cannot exceed the input voltage) |
| Frequency setting channel | Keyboard digital setting, keyboard potentiometer, communication setting, multi-channel terminal selection |
| Run command channel | Operation panel setting, external terminal setting, communication setting |
| External input/output signal | 8 logic inputs, 1 high-speed pulse input, 2 analog inputs, 2 analog outputs, 2 relay outputs, 1 collector output, and 1 RS485 communication interface |
Protective Function

| | |
| --- | --- |
| Protective function | Overvoltage, undervoltage, current limiting, overcurrent, overload, overheating, overvoltage stall |
Surroundings

| | |
| --- | --- |
| Installation site | Indoor, no more than 1000m above sea level, no corrosive gas and direct sunlight |
| Temperature humidity | Minus 10 to plus 40°C, 20% to 95%RH (no condensation) |
| vibration | Less than 0.5g below 20Hz |
| Storage temperature | -25~+60℃ |
| Protection level | IP25 |
| Cooling method | Forced air cooling |
Buyers who liked this product also liked