S100 Material Lifting Intelligent Control System
Intelligent driving, simple operation, and the automatic operation of the freight elevator can be controlled through the bottom cage or the operating suitcase.
Floor call function, with the functions of calling elevators and returning to the base station.
Video monitoring function helps driver easily check the surrounding obstacles and staff when operating.
Built-in AI humanoid detection can restrict the operation of freight elevator when there is violation of carrying people.
Features
Specifications
Downloads
Solutions
Cases
News
Related Products
Additional Information
Product Introduction
S100 is a special model developed for the intelligent control system of cargo construction elevators, including VFD, HMI touch screen, intelligent (unmanned) driving, humanoid detection, human-computer interaction, intelligent diagnosis, wireless remote control, wireless video transmission, automatic leveling, etc. Provide customers with a high-performance, complete electrical control solutions for the material hoists.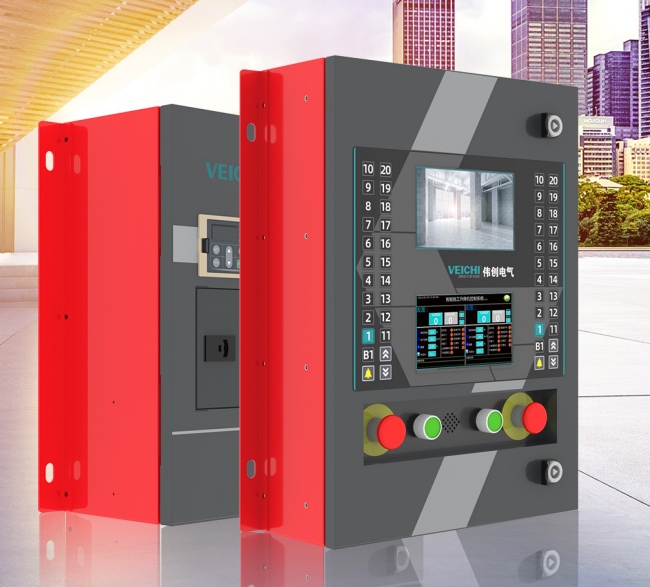 Features of Drive Host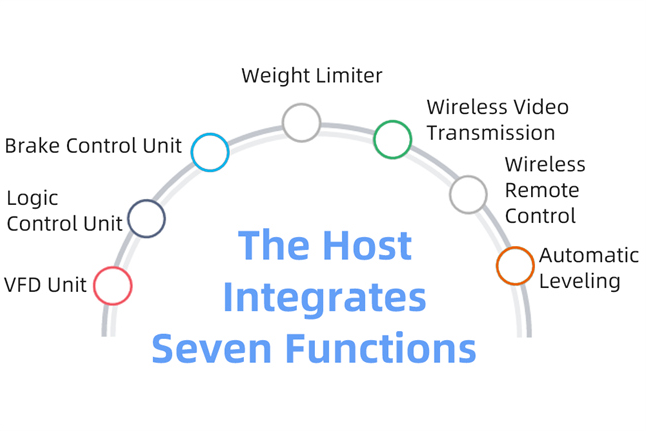 Fault self-diagnosis function: guiding users to quickly troubleshoot and improve maintenance efficiency.
Intelligent voice prompts: real-time reminder of emergency stop, fault and abnormal limit status.
Built-in 30dbm high-power module, high receiving sensitivity and transmitting power, strong penetrating ability, long transmission distance, and excellent anti-interference ability.
Built-in AI humanoid detection, when it is recognized that someone is taking the elevator, the operation of the freight elevator will be restricted, and the voice alarm will continue until the person leaves the cage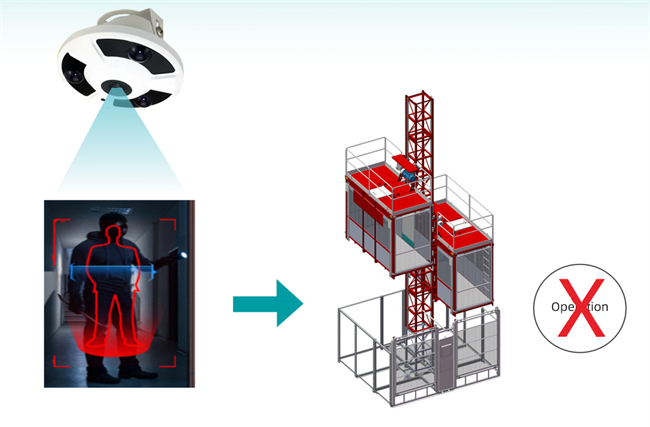 Various Installation Methods
Wall-mounted, semi-embedded and fully embedded installation methods are available.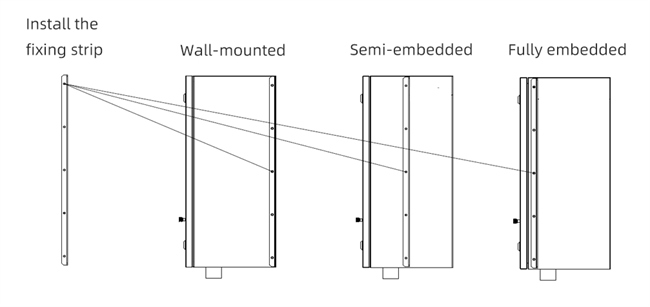 Automatic Floor Leveling Function
Reducing the workload of the operator, automatic operation in place after inputting the floor and precise leveling position.
Features of Bottom Cage Box
The bottom cage is integrated with external power control and has wireless signal transmission, floor call, video monitoring and HMI in one.
HMI interaction system is easy to adjust parameters, display limit, fault information, etc.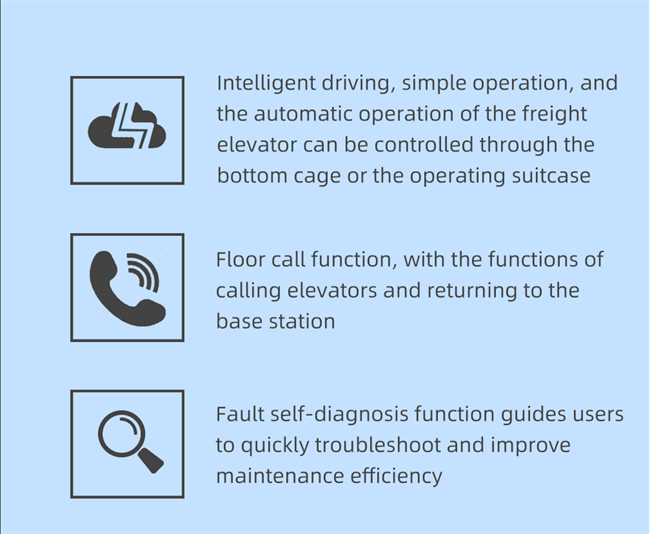 Intelligent voice prompts, real-time reminder of emergency stop, fault and abnormal limit status.
The video monitoring function collects the images in the cage and transmits them to the monitoring screen so that the operator can check the situation inside and ensure the safety of the operation.
Back to Base Station Control Function
When the lift running conditions are satisfied, press the target floor key, and the elevator will automatically run to the target floor; after unloading the material, close the discharge door, press the floor caller, and the elevator will automatically run to the first floor.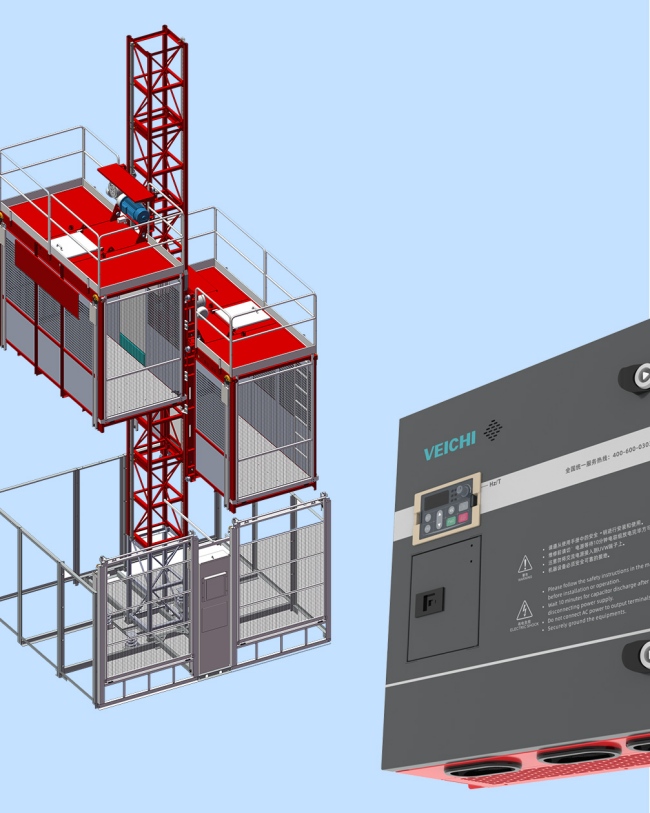 Features of Portable Operation Box
Customers can choose between portable operation box and bottom cage box according to their needs.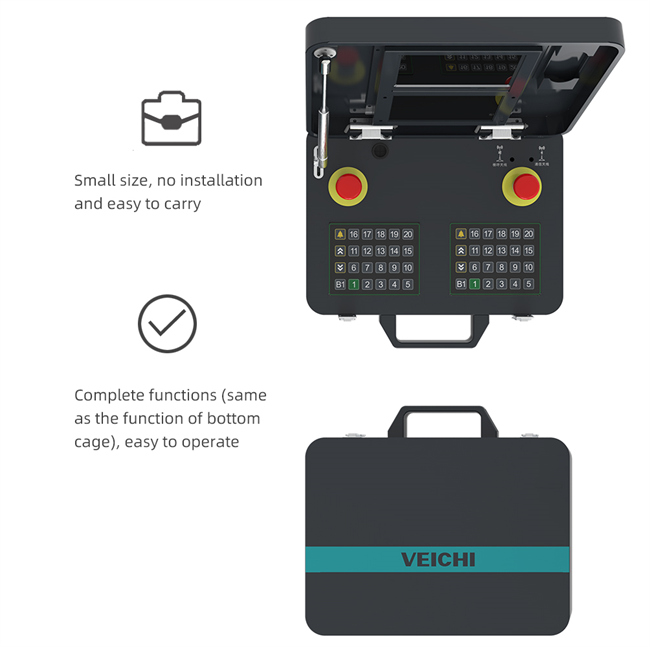 Industrial Applications for S100 Construction Hoist Control System
Applications:Construction lifts.
Specifications
Power Input

| | |
| --- | --- |
| Voltage frequency | Three-phase 380V 50/60Hz |
| Allowable fluctuation | Voltage imbalance rate: <3%; Frequency: ±5%; Distortion rate meets IEC61800-2 requirements |
| Closing impulse current | Less than rated current |
| Inverter efficiency | ≥96% |
Output

| | |
| --- | --- |
| Output voltage | Output under rated conditions: 3-phase, 0~input voltage, error less than 5% |
| Output frequency range | 0~600Hz |
| Output frequency accuracy | ±5% of maximum frequency value |
| Overload capacity | 150% rated current for 1 minute, 180% rated current for 10s, 200% rated current for 0.5s |
| Lighting output | AC220V/0.3A, later will be upgraded to DC24V |
Main Control Performance

| | |
| --- | --- |
| Motor control mode | V/F control |
| Modulation | Optimize space vector PWM modulation |
| Carrier frequency | 0.7~16.0kHz0 |
| Speed control range | Vector control without PG, rated load 1:100; vector control with PG, rated load 1:1000 |
| Steady-state speed accuracy | Vector control without PG: ≤2% of rated synchronous speed; vector control with PG: ≤0.05% of rated synchronous speed |
| Starting torque | Vector control without PG: 150% rated torque at 0.5Hz; Vector control with PG: 200% rated torque at 0Hz |
| Torque response | Vector control without PG: <20ms; Vector control with PG: <10ms |
| Frequency accuracy | Digital setting: maximum frequency×±0.01%; analog setting: maximum frequency×±0.2% |
| Frequency resolution | Digital setting: 0.01Hz; Analog setting: maximum frequency×0.05% |
Basic Functions of the Product

| | |
| --- | --- |
| DC braking capability | Starting frequency: 0.00~50.00Hz; Braking time: 0.0~60.0s; Braking current: 0.0~150.0% of rated currentt |
| Torque boost | Automatic torque increase 0.0%~100.0%; manual torque increase 0.0%~30.0% |
| V/F curve | Four methods: linear torque characteristic curve, self-set V/F curve, reduced torque characteristic curve (1.1~2.0 power), square V/F curve |
| Acceleration and deceleration curve | Two ways: linear acceleration and deceleration, S curve acceleration and deceleration |
| Rated output voltage | Using the power supply voltage compensation function, the rated motor voltage is 100%, which can be set in the range of 50 to 100% (the output cannot exceed the input voltage) |
| Automatic voltage adjustment | When the grid voltage fluctuates, it can automatically keep the output voltage constant |
| Instant power failure treatment | Uninterrupted operation by bus voltage control in case of transient power failure |
| Automatic current limiting | Automatic current limitation during operation to prevent frequent overcurrent fault tripping |
| Standard Features | Speed tracking and power-down restart, jump frequency, upper and lower frequency limit control, multi-segment speed, RS485, analog output, frequency pulse output |
| Frequency setting channel | Keypad digital setting, communication giving and multi-channel terminal selection mode switching |
| Run command channel | Operation panel setting, external terminal setting, communication setting, expansion card setting |
| Brake timing control | Built-in professional holding brake control function for lifting |
Protective Function

| | |
| --- | --- |
| Protective function | Overvoltage, undervoltage, current limit, overcurrent, overload, electronic thermal relay, overheating, overvoltage stall, data protection, fast protection, input and output phase loss protection, load overload protection. |
Keyboard Display

| | |
| --- | --- |
| LED display | Dual-line 5-digit digital tube display: It can monitor the status of 2 inverters |
| Parameter copy | The function code information of the inverter can be uploaded and downloaded to realize fast parameter copy |
| Status monitoring | All parameters of the monitoring parameter group such as output frequency, given frequency, output current, input voltage, output voltage, motor speed, PID feedback quantity, PID given quantity, module temperature, etc. |
| Error alarm | Overvoltage, undervoltage, overcurrent, short circuit, phase loss, overload, overheating, overvoltage stall, current limit, data protection damaged, current fault operating status, historical fault |
Surroundings
Installation site
If the altitude is lower than 1000 meters, derating for use above 1000 meters, derating by 1% for every 100 meters
No condensation, icing, rain, snow, hail, etc., solar radiation less than 700W/m2, pressure 70~106kPa
Temperature humidity
From -10 ℃ to +50 ℃, derating can be used above 40 ℃, the maximum temperature is 60 ℃ (no-load operation)
5% ~ 95%RH(No condensation)
Vibration

When 9~200Hz, 5.9m/s2(0.6g)

Storage temperature

-30~+60℃

Installation method

Wall-mounted

Protection level

IP23

Cooling method

Forced air cooling
Downloads
| File Name | Type | Language | File Type | Update | Download |
| --- | --- | --- | --- | --- | --- |
| Crane Solution Catalog | Catalog | English | PDF | 2020-10-20 | 7.49MB |
Buyers who liked this product also liked