AC800 series engineering multi-drive inverter
Excellent control performance
Convenient and fast debugging tools
Multiple fault protection methods
Rich extension interfaces
Features
Specifications
Downloads
Solutions
Cases
News
Related Products
Additional Information
AC800 Series Engineering Multi-drive Inverter Overview
AC800 series engineering multi-motor drive inverter is a high-performance, high-end inverter created by VEICHI after years of technical accumulation, in-depth market research, and demand analysis. It has excellent control performance, modular design, a common DC bus scheme, convenient and quick debugging tools, and abundant expansion interfaces. Satisfy all customer needs, multiple fault handling and protection methods, safety, and stability. Provide the driving core for energy saving and emission reduction of enterprises, and meet the diversified inverter function requirements of industrial enterprises.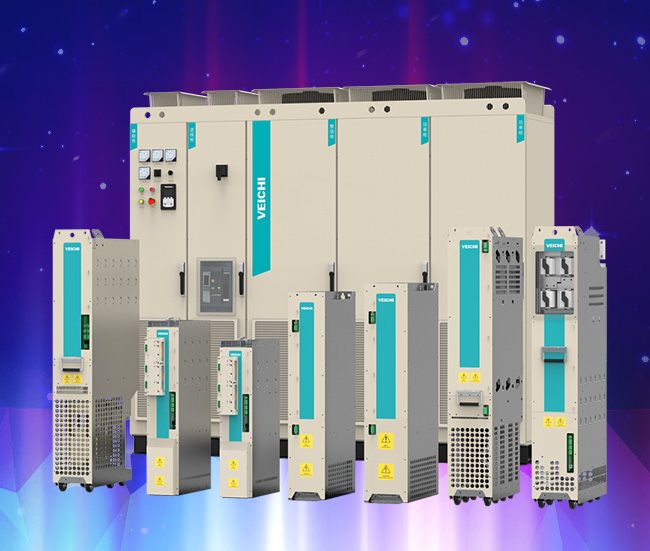 AC800 series engineering multi-drive inverter features
1. Excellent control performance.
2. Convenient and fast debugging tools.
3. Modular design, common DC bus scheme.
4. Rich extension interfaces to meet all customer needs.
5. Multiple fault handling and protection methods, safe and stable.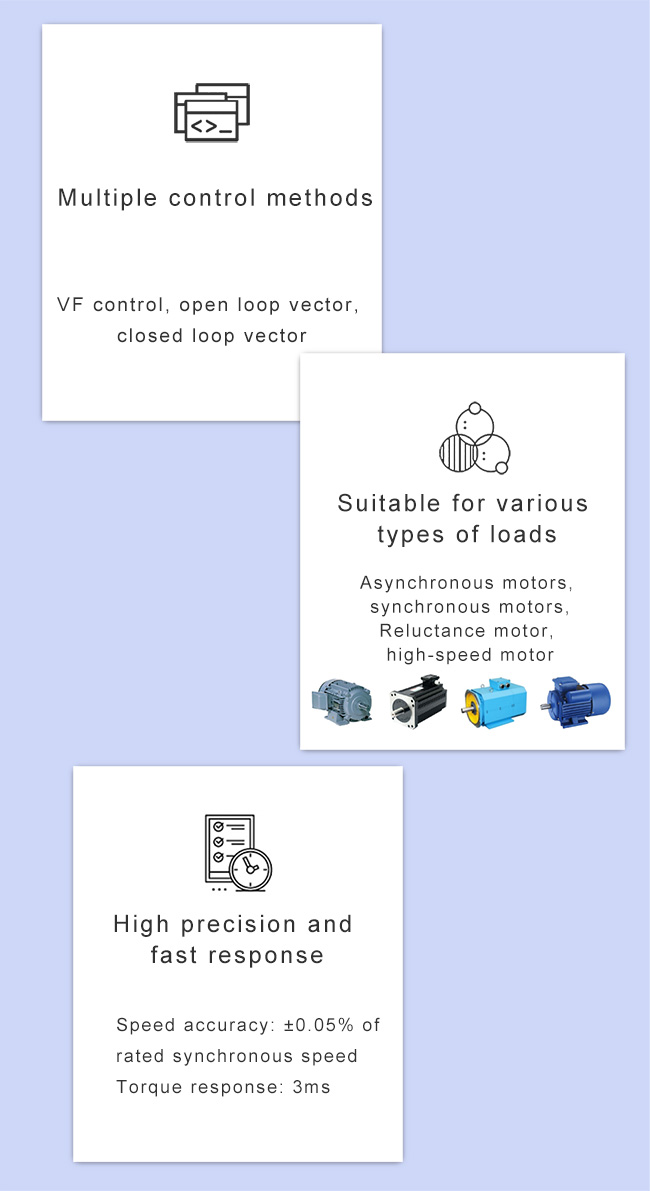 Built-in multiple function modules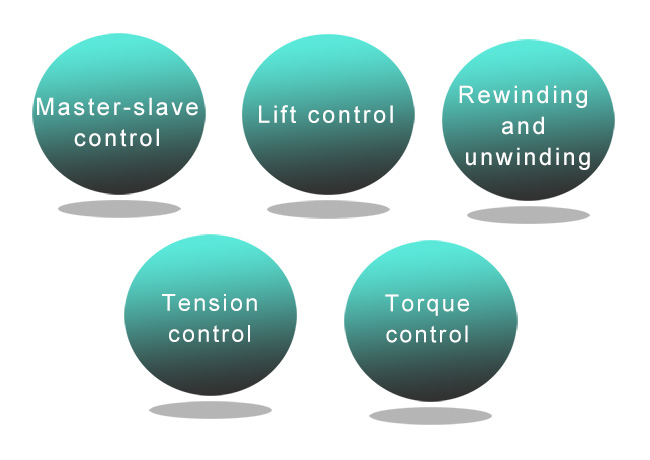 Debugging host computer adapted to working conditions
1. VCSoft debugging software.
2. The graphical interface menu-style operation can complete the simple configuration, parameter setting, fault detection, system maintenance, and service of the complex system in a short time.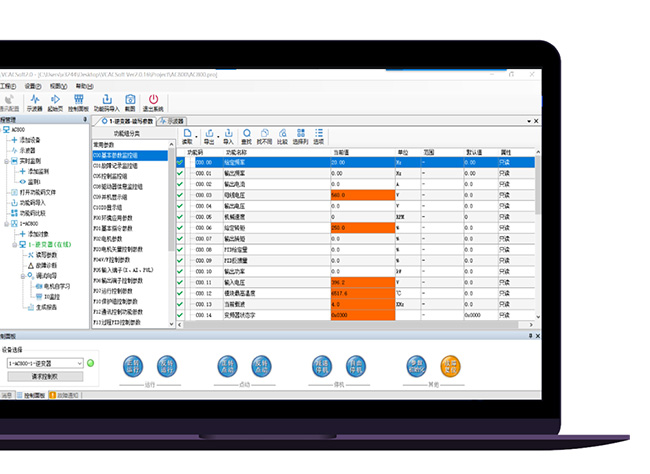 Multi-function keyboard
1. LCD display screen.
2. Support Chinese and English languages.
3. Through the built-in Bluetooth of the keyboard, simple and convenient debugging of handheld devices can be realized.
4. Parameter copy and restore.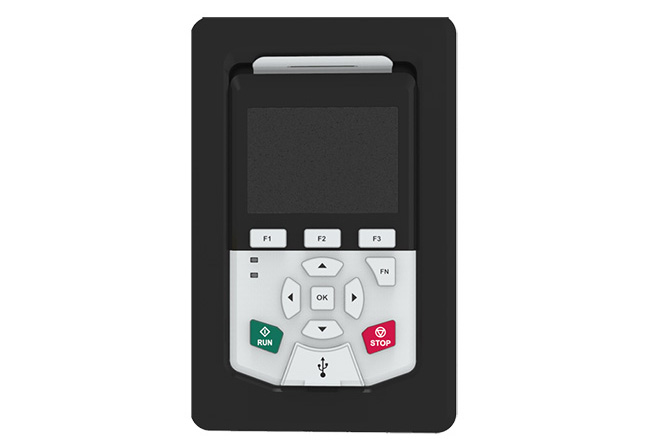 Modular design
1. Filtering, rectification, inverter and braking are all independent and standard modules.
2. The book-type design is convenient to form a cabinet and reduce the size of the cabinet.
3. The module can be flexibly configured according to the power of the load motor.
Common DC bus
1. In applications such as regenerative load lowering or winding and unwinding, the generated energy and electric energy between the inverter modules are exchanged through the DC bus to save energy requirements (5%-30%).
2. Effectively reduce the current of the rectifier module and brake module, simplifying the system capacity.
3. Unified power supply by the rectifier unit, reducing the amount of the main circuit switching devices and braking units.
4. Reduce the difficulty and amount of wiring of the electronic control system, and save user costs.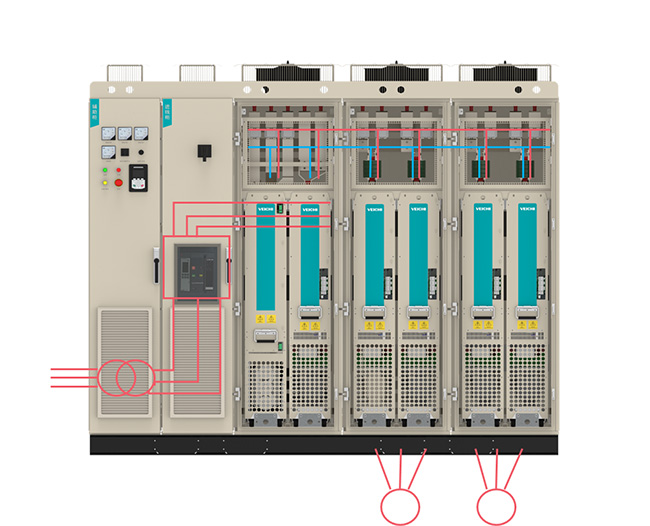 Supports multi-module parallel, the maximum extended power is 5600kW
The busbars share direct current and use V8 units for parallel operation. The 400V system supports a maximum of 2800kW, and the 690V system supports a maximum of 5600kW.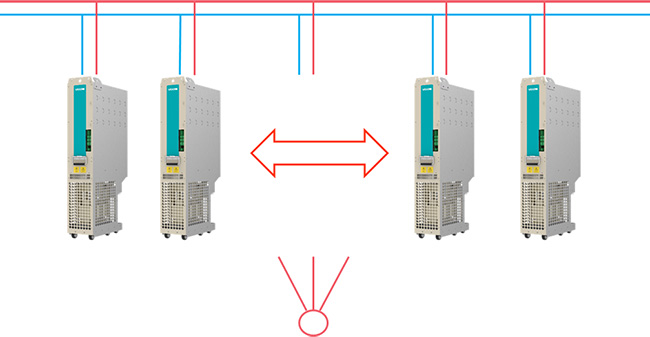 Full coverage of the main controller VCU
1. Data interconnection between the VCU control unit and each module.
2. Optical fiber communication, strong anti-interference ability.

Support a variety of expansion modules
Bus adaptation according to usage requirements.
Multiple fault handling and protection methods, safe and stable
1. Inverter protection: Short circuit, overcurrent, overvoltage.
2. undervoltage, phase loss, overheating, overload, encoder disconnection, etc.30 kinds of settings protection and multi-level classification.
3. Functional safety protection: Standard STO-Safe Torque Off function.
4. Hardware detection, disconnect the motor power by blocking the drive pulse, prevent the motor from starting accidentally, and ensure the safety of personnel and equipment.
5. Motor protection: Support PT100 temperature detection protection.
6. Black box: Standard SD card, can store multiple waveform data before and after the fault within a specified time.
7. Fuse protection: When a unit fails, it is quickly protected by the fast-acting on the bus side.
8. Module exit mechanism: When a certain unit fails, it can be withdrawn online, and the system will run with derating.
9. Quick change: There is no need to replace the VCU control unit, no need to set parameters, quickly restore the system operation, and the faulty unit can be repaired within 30 minutes.
Multi-machine transmission + parallel high-power, to meet a variety of engineering transmission applications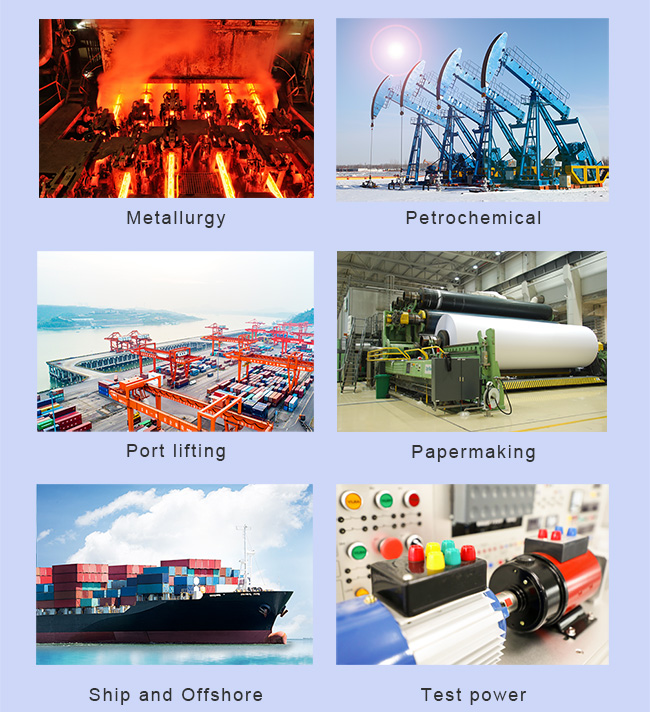 AC800 Series Engineering Multi-drive Inverter Video
The Application of AC800 Series Engineering Multi-drive Inverter
It is widely used in steel, non-ferrous smelting, petroleum, port crane, papermaking, shipbuilding, offshore engineering, test platform, feedback power supply and other occasions.
Specifications
Basic Rectification Control Characteristics
Input voltage

400V system: 380~415Vac ±10% 47~63Hz

Input frequency range

47~63Hz

Output voltage

400V system: 510~720Vdc

Overload capacity
Light overload: 110% is allowed to last for 1 minute every 5 minutes
Heavy overload: 150% allows for 1 minute every 5 minutes
Work efficiency

≥99%

Power Factor

≥0.95(Rated current)
Feedback Rectifier Control Characteristics
Input voltage

400V system:380~415Vac ±10% 47~63Hz

Input frequency range

47~63Hz

Output voltage

400V system: 510~720Vdc

Overload capacity
Light overload: 110% is allowed to last for 1 minute every 5 minutes
Heavy overload: 150% allows for 1 minute every 5 minutes
Overload capacity

≥98%

Power Factor

≥0.95(Rated current)
Active Rectifier Control Characteristics
Input voltage

400V system: 380~415Vac ±10% 47~63Hz

Input frequency range

47~63Hz

Output voltage

400V system: 510~720Vdc

Overload capacity
Light overload: 110% is allowed to last for 1 minute every 5 minutes
Heavy overload: 150% allows for 1 minute every 5 minutes
Work efficiency

≥97%

Power Factor

≥0.99

Unbalance

≤±3% rated line voltage

Total harmonic content THD

THDI<5% (rated power); THDU<5%, (Rsc>20)

Carrier frequency

400V system: default 3kHz
Inverter Module Control Characteristics
Output frequency

0~300Hz (When the output frequency is higher than 150Hz, the output current of some models will be derated, and the higher output frequency can be customized)

Carrier frequency

400V system: default 2kHz

Control method

Frequency control (V/F), vector control with encoder (FVC), vector control without encoder (SVC)

Speed ratio
V/F control: 1:50
SVC control: 1:200
FVC control: 1:1000
Speed accuracy
SVC control: ±2% rated synchronous speed
FVC control: ±0.05% of rated synchronous speed
Rotational fluctuation
SVC control: ±0.2%
FVC control: ±0.1%
Torque response
SVC control: 3ms
FVC control: 3ms
Starting torque
SVC control: 0.5Hz/150% TN
FVC control: 0Hz/200% TN
Features

| | |
| --- | --- |
| Protective function | Short circuit, overcurrent, overvoltage, undervoltage, phase loss, overheating, overload, encoder disconnection, etc. |
| Standard function | V/F control, vector control function, automatic voltage adjustment function, speed frequency setting, forward and reverse control, slip compensation, torque compensation, PID control |
Environmental Requirements
Operating temperature
Minus 10℃ to +40℃, derating should be used when it exceeds 40℃
Derating by 1% for every 1℃ increase in temperature, the highest ambient temperature for use is 50℃
Working humidity

5%~95%RH,no condensation

Protection level

IP00

Noise

≤85dB(A)

Installation height
Below 1000m altitude: 100% full load (no derating)
Altitude above 1000m: derate 1% for every 100m increase, the highest altitude is 4000m
Mechanical Data
Vibration performance
Conforms to IEC 60068-2-6 Environmental testing Part 2: Tests-Tests Fc: Vibration(sinusoidal)
2(+3/0)~13.2Hz, amplitude ±1mm
13.2~100Hz, vibration acceleration ±6.9 m/s2 or (0.7g)
Cooling method

Forced air cooling AF
Downloads
| File Name | Type | Language | File Type | Update | Download |
| --- | --- | --- | --- | --- | --- |
Buyers who liked this product also liked
You may also be interested in