SD100 Series Low-voltage Servo Drive
Input wide voltage: DC 24-72
Dual power supply: 24V control power can be controlled independently
Multiple control modes: Position/Speed/Torque Position-Speed/Position- Torque Speed-Torque / Position- Speed-Torque
Differential input, open collector Input pulse type:
Internal 24V holding brake power supply
External regenerative braking resistor can be connected
Features
Specifications
Downloads
Solutions
Cases
News
Related Products
Additional Information
SD100 Series Low Voltage Servo Drive Overview
SD100 series low-voltage servo drive adopts international leading algorithm platform, which can support single-axis/dual- axis/multi-axis motor algorithm control, its compact size, rich function, flexible and easy to use, stable and reliable, widely used, with high performance, high precision, high speed and other performance characteristics. It can be widely used in various mobile robots (A M R, AGV), service robots, special robots, logistics warehousing and sorting, medical equipment and other occasions that have certain requirements on voltage and volume. For special applications, such as low temperature, communication, installation and other special needs, the company can provide customized versions of low-voltage servo, such as, all-in-one products, integrated machine solutions, etc., for the convenience of users.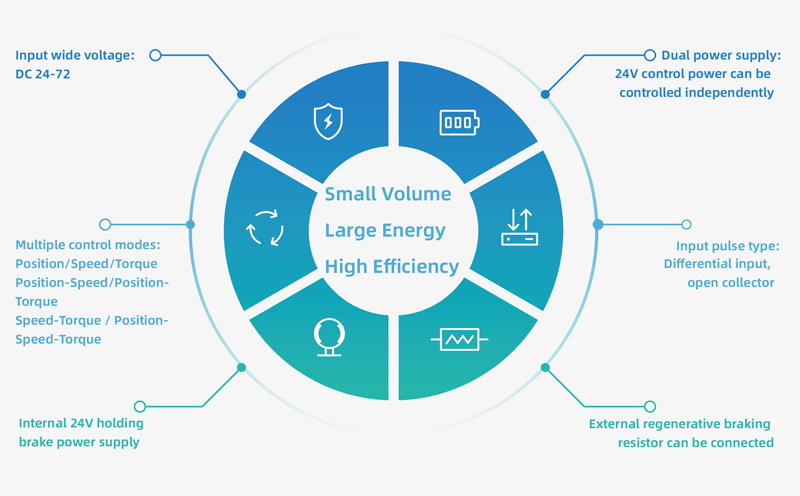 Ultimate Structure
High power density design, compact and exquisite in size,
Reduce the installation area to meet the limited space.
Compared with market products, the volume is reduced by 20%~50%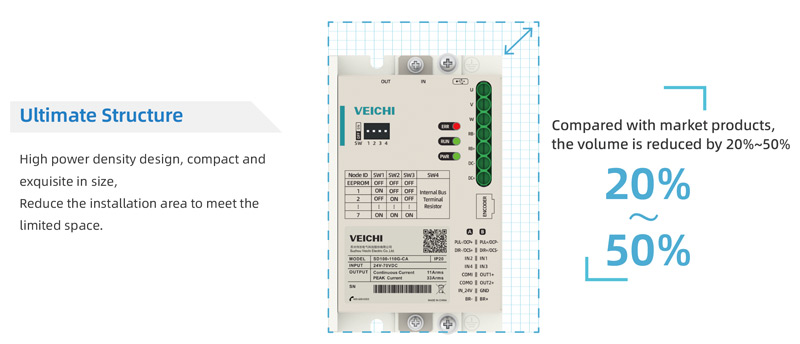 Ultra-High Standard
International leading algorithm platform, 100 megabit main frequency CPU, fast response time and large starting torque.
Standard 17bit absolute encoder, optional 23bit and 24bit serial communication encoder.
Balance design, PCB with triple-proof thickening treatment, 24hrs power-up test before leaving the factory.
Rated speed 3000rpm Maximum speed 4000+rpm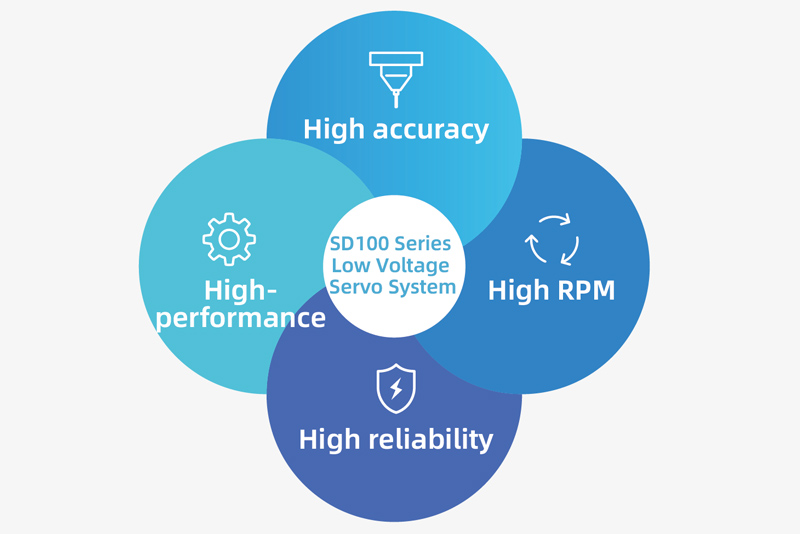 Unique Design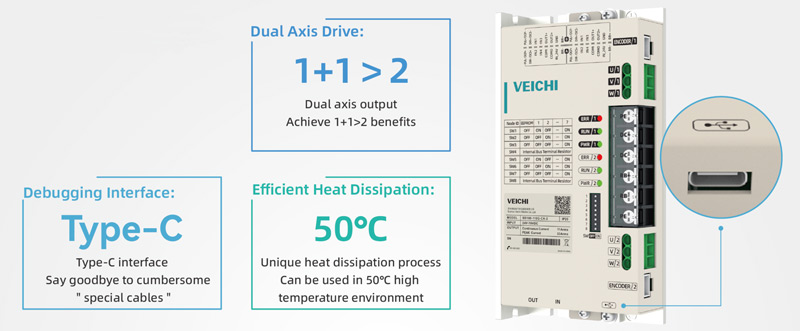 Convenient and Easy to Use
Easy wiring: European-style and quick plug-in terminals are used to reduce wiring time.
Easy to debug: Standard Type-C interface, easy to use upper computer software; optional Bluetooth module, APP wireless debugging.
Easy to install: Both front and side can be installed, suitable for different installation scenarios.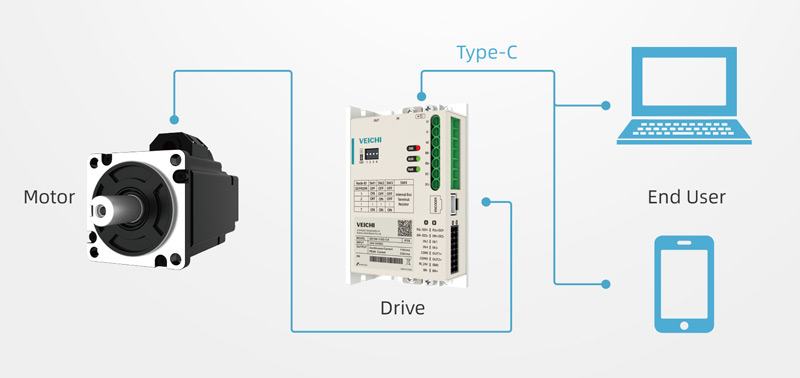 Super Overload Capacity
Combined with the unique heat dissipation process, it ensures efficient overload operation.
Certification Design
The products are designed in accordance with CE, UL, and ROSH standards to connect with international markets. Equipped with STO safety protection module to make the product more reliable.

Synchronous Drive
Using the principle of bus interaction and external circuit interaction, the synchronization of start-up and shutdown is double guaranteed. In the case of a fault, the above mechanism is used to synchronize the braking stop to ensure the safety of the equipment.
High Performance
3 times strong overload design, low noise development, new electromagnetic design, high output torque.
Short Frame
At least 10% shorter in size than common motors in the market with the same performance specifications.
Highly Reliability
Low temperature rise design, easy to deal with high temperature applications. Equipped with magnetic encoder for high vibration environment. Standard direct line out, no adapter required.
Enriched Bus
Support CANopen, EtherCAT, Profinet, Modbus-RTU and other bus communication protocols to enrich the user's choice.
Energy Saving Drive
The new generation of energy-saving drive technology reduces motor heat loss and improves energy utilization by more than 10%.
Standby " low power consumption " application mode, can save energy and reduce emissions to improve the battery life by more than 10%.
Drive Model Description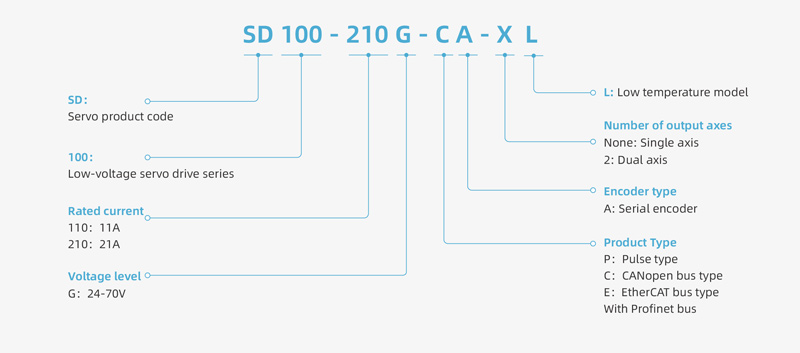 Drive Specification
Brake Resistor Selection
The braking resistor resistance value and resistor power mentioned in the table below are approved according to the common inertia load and intermittent braking mode. If you need to use it for large inertia and long time frequent braking, please adjust the braking resistor resistance value and resistor power according to the selected drive specification and rated parameters of the braking unit. When connecting the external regenerative resistor, connect the resistor to the RB+ and RB- terminals, the wiring reference diagram is shown on the right.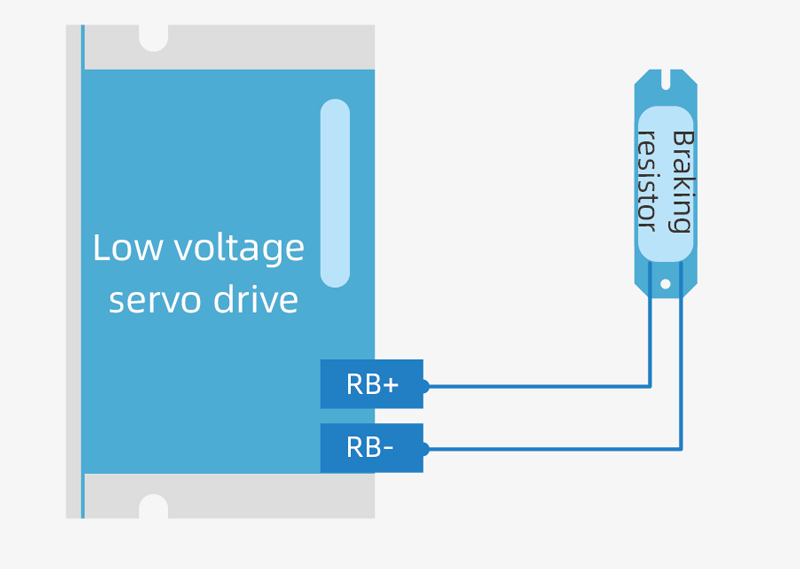 SD100 Series Low-voltage Servo Drive Video
Industrial Applications for SD100 Series Low-voltage Servo Drive
Applications: All kinds of mobile robots, logistics storage equipment, medical social security, textile equipment, new energy lithium battery equipment, etc.
Specifications
Model Type
Model No.
SD100-110G
SD100-210G
SD100-300G
SD100-400G
SD100-600G
SD100-800G
Input

| | |
| --- | --- |
| DC voltage (V) | DC 24-72V |
Output (RMS)

| | |
| --- | --- |
| Rated current(A) | 14/21/30/40/60/80 |
| Instantaneous current (A) | 42/63/90/120/180/240 |
Specifications of Motor Mechanical Characteristics

| | |
| --- | --- |
| Operating system | Continuous |
| Vibration level | Below 49m/s2(5G) when rotating, below 24.5m/s2(2.5G) when stopping |
| Insulation resistance | Direct current (DC) 48V, >10MΩ |
| Operating ambient temperature | 0℃~40℃ |
| Operating ambient humidity | 20%~80% (no condensation) |
| Excitation method | Permanent magnet type |
| Installation method | Flange |
| Insulation grade | F grade |
| Insulation voltage | AC1500V 1min (200V level) |
| Operating temperature | -15℃~40℃ |
| Operating humidity | 20 to 90% RH(no condensation) |
| Protection level | IP67 (except for shaft end) |
Buyers who liked this product also liked