SD780 Series High-performance Servo Drive
Smarter performance: Easy setting & debugging, self-tuning & adjusting
Better design: Upgraded hardware, compacted structure
More protection: Stronger interference shielding; STO added, safety function in accordance with SIL3
Multipul communications: CANopen, EtherCAT, RS485, MicroUSB available on communication bus
Worldwide admit: Gained CE, EAC, UL Certifications
Features
Specifications
Downloads
Solutions
Cases
News
Related Products
Additional Information
Product Introduction
VEICHI SD780 series servo drives are high performance, high reliability, high quality, and cost-effective products to meet a variety of industrial environments and critical system applications and achieve the perfect combination of servo and program.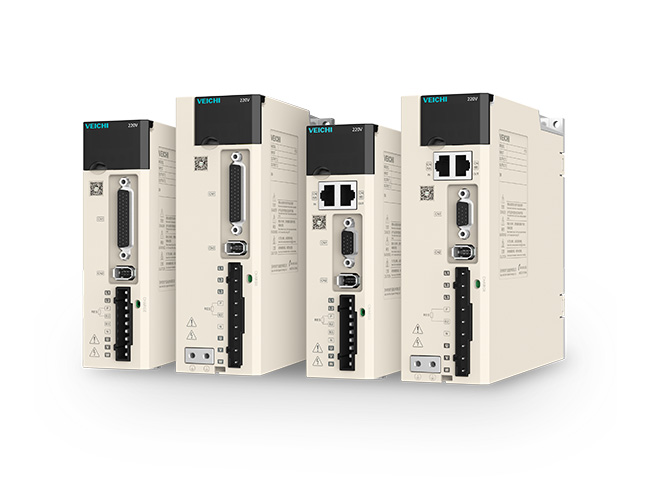 International Standard UL Certification
International standard UL certification, Applicable to all countries with UL certification requirements worldwide.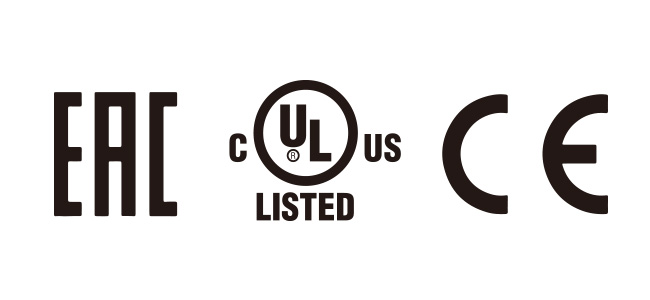 Data Copy & Transfer
The debugging software has the function of copying drive parameters, eliminating the tedious operation of parameter setting of the same model.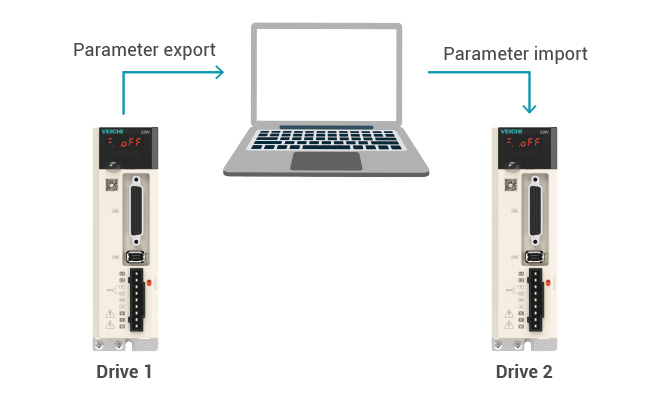 Simplified Debugging Panel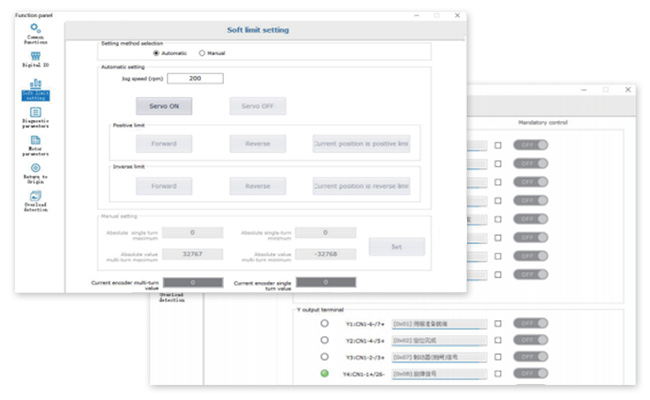 Self-adjusting for Different Applications
1. Treat differently according to different mechanical structures.
2. Complete the intelligent setting of various complex loop parameters.
3. Automatic setting according to mechanical conditions, no manual setting required.
4. The fastest position setting time is up to 10ms.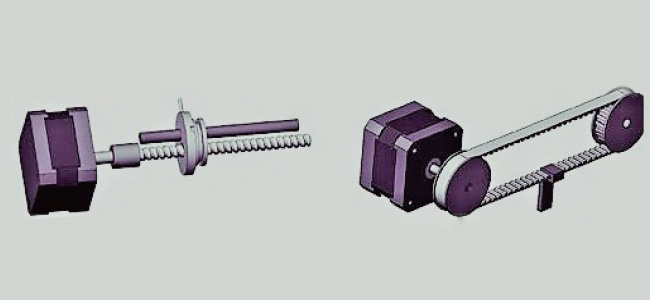 Mechanical structures such as lead screws, timing belts, and rigid bodies are treated differently
STO Function
Standard SIL3 safety torque off function, suitable for new energy, lithium battery, photovoltaic equipment and other industries. Provide greater security to device users.
Intelligent Settings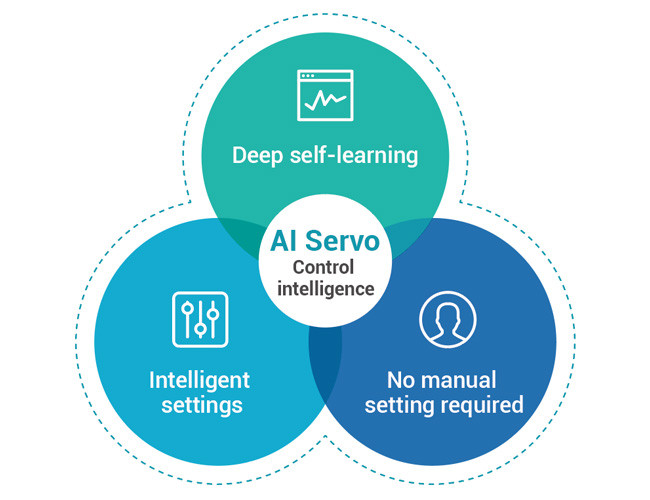 Compatible with 17bit/23bit Absolute Encoders
With absolute encoder, the position is remembered when the power is turned off.
Battery life is more than 3 years.
Encoders with different resolutions to meet different application options.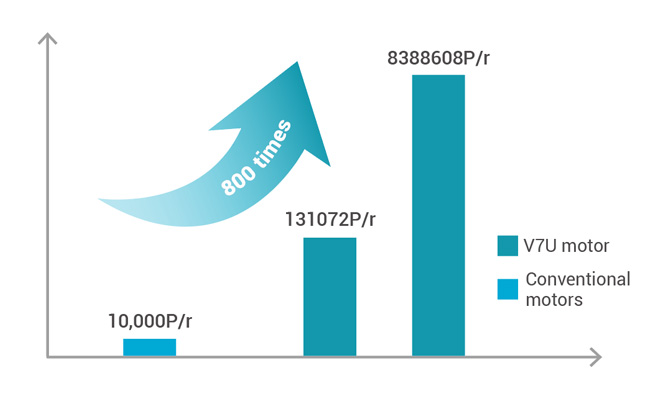 Powerful Bus Communication Function

High-performance as Ever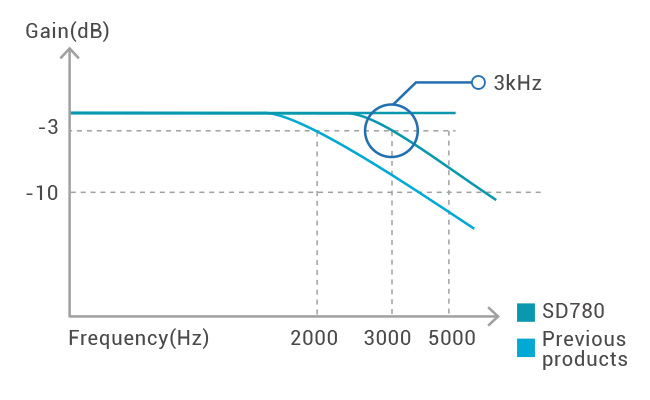 Upgraded Hardware, Compacted Structure
Hardware and structure upgrades, the size of the 5R5 model is reduced by 30%.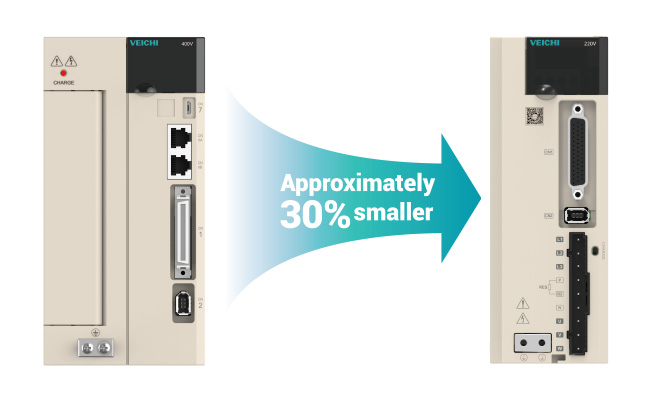 SD780 Series Servo is Compatible with V7U Series Motor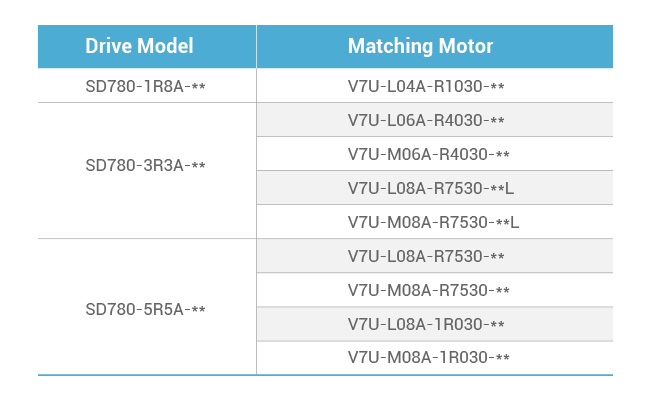 SD780 Series High Performance Servo System Video
Industrial Applications for SD780 Series High Performance Servo System
Applications:Electronic manufacturing equipment, numerical control equipment, packaging machinery, printing machinery, textile machinery, plastic machinery and glass equipment, testing equipment, etc.
Specifications
Encoder Feedback

| | |
| --- | --- |
| Encoder feedback | Serial encoder: absolute value encoder |
Environmental conditions

| | |
| --- | --- |
| Operating temperature | 0°C~55°C (55°C~60°C can be used after derating) |
| Storage temperature | -20℃~ 65℃ |
| Operating temperature | Below 95%RH (no freezing and condensation) |
| Storage temperature | Below 95%RH (no freezing and condensation) |
| Shock resistance | 4.9m/s |
| Impact strength | 19.6m/s |
| Protection class | IP20 |
| Altitude | Less than 1000m (1000m-2000m, need to reduce the rated value before use) |
| Other | No electrostatic interference, strong electric field, strong magnetic field, radiation, etc. |
Speed Control
Speed control range

1: 5000 (the lower limit in the speed control range is the value under the condition that the rated torque load does not stop)

Speed volatility
Load fluctuation:±0.01% or less of rated speed (load fluctuation: 0%~100%)
Voltage fluctuation:0% of rated speed (voltage fluctuation: ±10%)
Temperature fluctuation:±0.01% or less of rated speed (temperature fluctuation: 25℃±25℃)
Torque Control

| | |
| --- | --- |
| Torque control accuracy | ±1% (reproducibility) |
| Soft start time setting | 0s~10s (acceleration and deceleration can be set separately) |
Position Control
Feedforward compensation

0%~100%

Command pulse
Command pulse shape:Including "pulse + direction", "CW + CCW pulse sequence", "A, B phase quadrature pulse" three command forms
Input form:Linear drive, open collector
Maximum input frequency:Differential Input: High Speed Max 4Mpps; Open Collector: Max 200Kpps
Certification

CE,EAC,UL
Communication Function

| | |
| --- | --- |
| 485 | Standard |
| EtherCAT | Optional |
| CAN | Optional |
| USB | Computer host computer, standard configuration, in line with USB2.0 specification (12Mpps) |
Display Function

| | |
| --- | --- |
| Display function | CHARGE, 8-segment LED*5 digits |
Panel Operator Function

| | |
| --- | --- |
| Panel operator function | Button switch*4 |
Regeneration

| | |
| --- | --- |
| Regeneration | Function can be built-in/external |
Protective Function

| | |
| --- | --- |
| Display function | Overcurrent, overvoltage, undervoltage, overload, regeneration fault, encoder disconnection, overtravel protection, etc. |
Accessibility

| | |
| --- | --- |
| Accessibility | Gain adjustment, alarm recording, JOG operation, etc. |
Encoder Pulse Frequency Division Output

| | |
| --- | --- |
| Encoder pulse frequency division output | Phase A, Phase B, Phase C: Linear drive output, frequency-divided pulse number: 35~32767 |
Downloads
| File Name | Type | Language | File Type | Update | Download |
| --- | --- | --- | --- | --- | --- |
| ServoSelector V1.0.6 (Simplifed for SD780)-EN | Software | English | ZIP | 2022-12-02 | 662KB |
| Solution for Machine Tool Industry | Catalog | English | PDF | 2019-04-17 | 10MB |
| SD700&710&780 Series Servo Soft V2.4-EN | Software | English | ZIP | 2023-03-15 | 51.8MB |
| UL of SD780 Servo Drive | Certificate | English | PDF | 2022-12-01 | 492.23 KB |
| SD780 Series Servo Drive User Manual V1.0 | Manual | English | pdf | 2022-07-29 | 17.0MB |
Buyers who liked this product also liked