VI20 Series HMI
Using high-definition, high-brightness display LCD, the maximum viewing angle reaches 170 degrees;
Possess powerful embedded operating software, namely edge computing software;
Remote configuration of field device data is possible through Flnk;
Powerful SAAS platform based on B/S structure;
Features
Specifications
Downloads
Solutions
Cases
News
Related Products
Additional Information
Product Overview
VEICHI industrial HMI VI20 series is a new generation of IoT HMI with the industrial ABS plastic shell and high reliability. The new model comes with a more practical down-cable approach and a better looking. The higher resolution models are also available.
With the FLink IOT module, you can upgrade the IOT HMI immediately and enjoy a complete and convenient industrial IOT cloud platform service.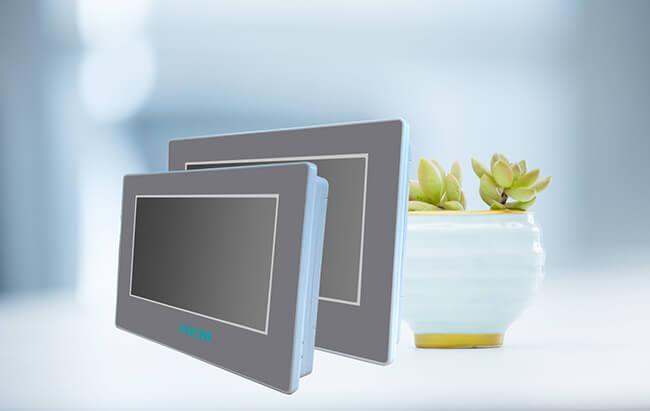 Model Description

Features of the Product
HD, highlight, full viewing angle: Using high-definition, high-brightness display LCD, the maximum viewing angle reaches 170 degrees.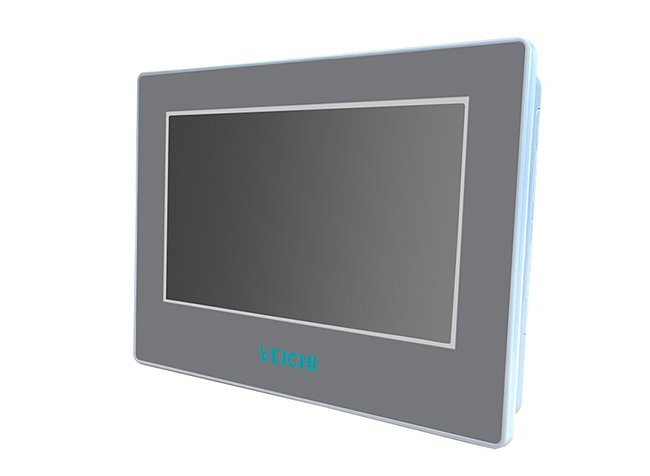 Support edge computing: Possess powerful embedded operating software, namely edge computing software.
1. 300+ protocol local resolution.
2. VPN and routing functions.
3. Data storage function.
4. Support MQTT.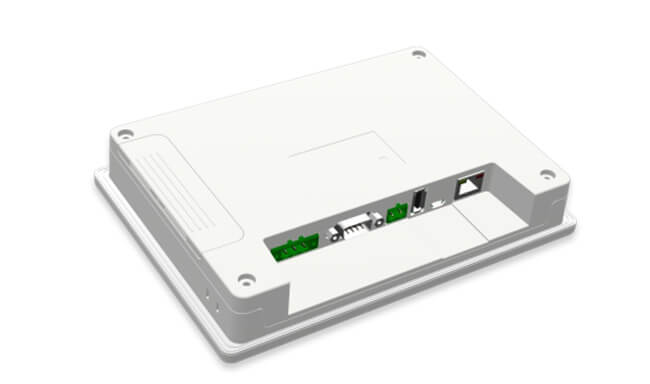 Support Flink IOT expansion module: Remote configuration of field device data is possible through Flnk.
1. PLC remote download.
2. Data configuration.
3. Historical data query.
4. Alarm configuration.
Expansion module card slot
Support module: FLink,FLink-2G(-A),FLink-4G(-A), FLink-4G(-C),FLink-WiFi(-A).
Support cloud platform Flex Cloud: Powerful SAAS platform based on B/S structure.
1. Configuration monitoring.
2. Map monitoring.
3. Data report.
4. Mobile APP.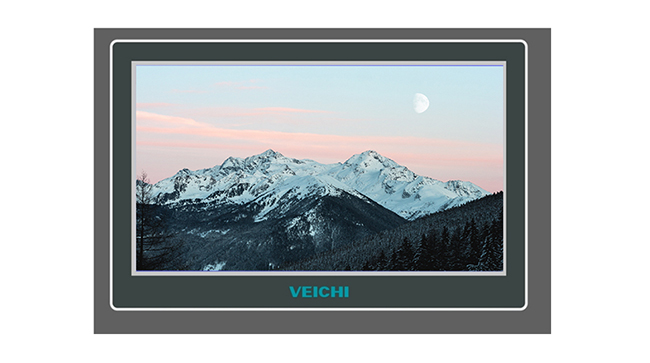 Installation Dimension Drawing
VI20-043S-F dimensional drawings

VI20-070S-F/VI20-070S-FE dimensional drawings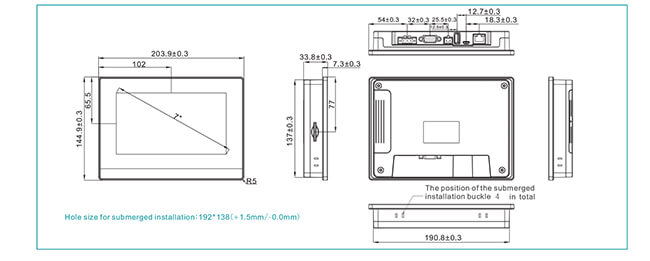 VI20-101S-F/VI20-101S-FE dimensional drawings

Industrial Applications for VI20
Applications:Petroleum and natural gas, chemical pharmaceuticals and other electrical environments that require explosion protection.

Specifications
Hardware Parameters
Model:VI20-043S-F
Display screen: 4.3" 16:9 TFT LCD screen
Resolution: 800×480
Color: 16 bits
Brightness: 250 cd/m²
Backlight: LED
LCD life: 50000 hours
Touch screen: 4-wire industrial resistive touch screen
CPU: 720MHz ARM
Memory: 64MB RAM+128MB Flash
RTC: With
Ethernet: Without
USB port: One Type-C OTG interface
Program download method: USB Slave/U Disk (Need to be equipped with adapter cable)
Serial communication interface: COM1RS232/RS485/RS422 COM3: RS232
LCD viewing angle (T/B/L/R): 80'/80'/80'/80'
Model:VI20-070S-F
Display screen: 7" 16:9 TFT LCD screen
Resolution: 1024×600
Color: 24 bits
Brightness: 350 cd/m²
Backlight: LED
LCD life: 50000 hours
Touch screen: 4-wire industrial resistive touch screen
CPU: 600MHz ARM Cortex-A8
Memory: 128M Flash + 128M DDR3
RTC: Built-in real-time cloc
Ethernet: Without
USB port: One USB Slave 2.0 port, One USB Host 2.0 port
Program download method: USB Slave/U Disk; Serial communication interface: COM1:RS232/RS485/RS422 COM2:RS485 COM3:RS232
LCD viewing angle (T/B/L/R): 85'/85'/85'/85'
Model:VI20-070S-FE
Display screen: 7" 16:9 TFT LCD screen
Resolution: 1024×600
Color: 24 bits
Brightness: 350 cd/m²
Backlight: LED
LCD life: 50000 hours
Touch screen: 4-wire industrial resistive touch screen
CPU: 600MHz ARM Cortex-A8
Memory: 128M Flash + 128M DDR3
RTC: Built-in real-time cloc
Ethernet: 1 channel 10M/100M adaptive
USB port: One USB Slave 2.0 port, One USB Host 2.0 port
Program download method: USB Slave/U Disk/Ethernet
Serial communication interface: COM1:RS232/RS485/RS422 COM2:RS485 COM3:RS232
LCD viewing angle (T/B/L/R): 85'/85'/85'/85'
Model:VI20-101S-F
Display screen: 10.1" 16:9 TFT LCD screen
Resolution: 1024×600
Color: 24 bits
Brightness: 400 cd/m²
Backlight: LED
LCD life: 50000 hours
Touch screen: 4-wire industrial resistive touch screen
CPU: 600MHz ARM Cortex-A8
Memory: 128M Flash + 128M DDR3
RTC: Built-in real-time cloc
Ethernet: Without
USB port: One USB Slave 2.0 port, One USB Host 2.0 port
Program download method: USB Slave/U Disk
Serial communication interface: COM1: RS232/RS485/RS422 COM3: RS232
LCD viewing angle (T/B/L/R): 85'/85'/85'/85'
Model:VI20-101S-FE
Display screen: 10.1" 16:9 TFT LCD screen
Resolution: 1024×600
Color: 24 bits
Brightness: 400 cd/m²
Backlight: LED
LCD life: 50000 hours
Touch screen: 4-wire industrial resistive touch screen
CPU: 600MHz ARM Cortex-A8
Memory: 128M Flash + 128M DDR3
RTC: Built-in real-time cloc; Ethernet: 1 channel 10M/100M adaptive
USB port: One USB Slave 2.0 port, One USB Host 2.0 port
Program download method: USB Slave/U Disk/Ethernet
Serial communication interface: COM1:RS232/RS485/RS422 COM2:RS485 COM3:RS232
LCD viewing angle (T/B/L/R): 85'/85'/85'/85'
Electrical Specifications
Model:VI20-043S-F
Rated power: < 2.5W
Rated voltage: DC24V, Workable range DC 9V~28V
Power protection: With lightning surge protection
Allow power loss: < 5mS
CE&RoHS: Comply withEN61000-6-2:2005
EN61000-6-4:2007 standard; Lightning surge±1KV
Group pulse±2KV; Static contact 4KV
Air discharge 8KV Comply with RoHS
Model:VI20-070S-F
Rated power: < 10W
Rated voltage: DC24V, Workable range DC 9V~28V
Power protection: With lightning surge protection
Allow power loss: < 5mS
CE&RoHS: Comply with EN61000-6-2:2005EN61000-6-4:2007 standard Comply with RoHS lightning surge±1KVGroup pulse±2KV Static contact 4KV, Air discharge 8KV
Model:VI20-070S-FE
Rated power: < 10W
Rated voltage: DC24V, Workable range DC 9V~28V
Power protection: With lightning surge protection
Allow power loss: < 5mS
CE&RoHS: Comply with EN61000-6-2:2005EN61000-6-4:2007 standard Comply with RoHS lightning surge±1KVGroup pulse±2KV Static contact 4KV, Air discharge 8KV
Model:VI20-101S-F
Rated power: < 10W
Rated voltage: DC24V, Workable range DC 9V~28V
Power protection: With lightning surge protection
Allow power loss: < 5mS
CE&RoHS: Comply with EN61000-6-2:2005EN61000-6-4:2007 standard Comply with RoHS lightning surge±1KVGroup pulse±2KV Static contact 4KV, Air discharge 8KV
Model:VI20-101S-FE
Rated power: < 10W
Rated voltage: DC24V, Workable range DC 9V~28V
Power protection: With lightning surge protection
Allow power loss: < 5mS
CE&RoHS: Comply with EN61000-6-2:2005EN61000-6-4:2007 standard Comply with RoHS lightning surge±1KVGroup pulse±2KV Static contact 4KV, Air discharge 8KV
Environmental Requirements
Model:VI20-043S-F/VI20-070S-F/VI20-070S-FE/VI20-101S-F/VI20-101S-FE
Operating temperature Storage temperature: 0~50 ℃
Storage temperature: Minus 20 ℃ to 60 ℃
Anti-UV: It is forbidden to work in a strong ultraviolet environment (such as direct sunlight)
Environment humidity: 10~90%RH (No condensation)
Shock resistance: 10~25Hz ( X/Y/Z direction 2G/30 minutes )
Cooling method: Natural air cooling
Mechanical Index
Model:VI20-043S-F
Protection level: The front panel complies with IP65 (installed with flat panel cabinets), and the back shell complies with IP20
Mechanical structure: Engineering plastics
Hole size: 132mm×80mm
Overall size: 138mm×86mm×32mm
Total size: About 560g
Model:VI20-070S-F/VI20-070S-FE
Protection level: The front panel complies with IP65 (installed with flat panel cabinets), and the back shell complies with IP20
Mechanical structure: Engineering plastics
Hole size: 192mm×138mm
Overall size: 204mm×145mm×33.8mm
Total size: About 890g
Model:VI20-101S-F/VI20-101S-FE
Protection level: The front panel complies with IP65 (installed with flat panel cabinets), and the back shell complies with IP20
Mechanical structure: Engineering plastics
Hole size: 260mm×202mm
Overall size: 273mm×213mm×36mm
Downloads
| File Name | Type | Language | File Type | Update | Download |
| --- | --- | --- | --- | --- | --- |
| Introduction of Internet of Things | Catalog | English | PDF | 2018-02-04 | 2.4MB |
| HMI&PLC Catalog | Catalog | English | PDF | 2018-07-03 | 24.3MB |
| VI20 USB Driver | Software | English | zip | 2023-05-23 | 8.07MB |
| VI20 101S FZ Specifications V1.0 | Manual | English | PDF | 2022-03-25 | 535KB |
| VI20Studio 2.8.11635.0 for win7, win10 and win11 | Software | English | ZIP | 2023-05-29 | 859MB |
| VI20 User Manual V1.0 | Manual | English | PDF | 2022-03-25 | 29.1MB |
| VI20 101S FE Specifications V1.0 | Manual | English | PDF | 2022-03-25 | 519KB |
| VI20 070S FEZ Specifications V1.0 | Manual | English | PDF | 2022-03-25 | 532KB |
| VI20-FBOX Mobile App Download | Software | English | PDF | 2023-01-29 | 201KB |
| VI20Studio 2.8.11635.0 for XP | Software | English | ZIP | 2023-05-29 | 885MB |
| VI20 Series HMI Catalog V1.1 | Catalog | English | PDF | 2022-03-25 | 1.51MB |
| VI20 101S FEZ Specifications V1.0 | Manual | English | PDF | 2022-03-25 | 529KB |
| VI20 043S FZ Specifications V1.0 | Manual | English | PDF | 2022-03-25 | 301KB |
| VI20 070S F Specifications V1.0 | Manual | English | PDF | 2022-03-25 | 517KB |
| VI20 043S F Specifications V1.0 | Manual | English | PDF | 2022-03-25 | 275KB |
| VI20 IOT BWS1.0 FLink Specification book V1.0 | Manual | English | PDF | 2022-04-20 | 488KB |
| VI20 IOT BS4.0 FLink Specification V1.0 | Manual | English | PDF | 2022-04-20 | 548KB |
| VI20-156S-FE Specification V1.0 | Manual | English | PDF | 2022-04-27 | 844KB |
| VI20-Z Neutral Software V1.0 | Software | English | ZIP | 2022-06-10 | 695MB |
| VI20-FBOX-FlexManager-1.0.3131.0 | Software | English | ZIP | 2023-01-29 | 93.3MB |
Buyers who liked this product also liked
You may also be interested in