Jade and Gemstone Wire Cutting Machine Solution
Overview
Features and Benefits
Related Products
Related Cases
Related News & Events
Related Solutions
Contact us
Jade and Gemstone Wire Cutting Machine Solution
VEICHI has introduced a high-speed, high-precision, and highly stable jade and gemstone wire cutting machine system solution, effectively enhancing the automation level of the jade and gemstone cutting control system and accelerating the upgrade and iteration of the cutting process for jade and gemstones.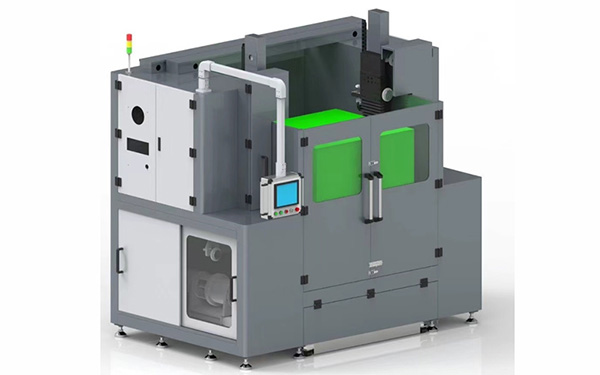 Features and Benefits
Highly Integrated and Powerful Performance
The jade and stone wire cutting machine system solution adopts the VEICHI VC5 series EtherCAT control scheme. The entire solution uses VEICHI's independently developed products, including the VC5 motion controller, SD700 high-performance servo drive, SD710 economical servo drive, etc. It precisely controls 7 major motion axes, meeting the requirements of high-speed and high-precision needs.
The entire system solution, through dual-core architecture technology, harnesses powerful motion control capabilities to drive the wire-based equipment at high speeds, alleviating the immense pressures faced in jade and stone cutting. By employing a single-wire cutting approach and combining it with the reciprocating motion of diamond-coated wires, a cutting effect is generated between the wire and the jade or stone. This enables continuous cutting for durations exceeding 72 hours, resulting in a smooth and even cutting surface. Simultaneously, it reduces costs and shortens time, achieving a lean effect that maximizes results with minimal effort!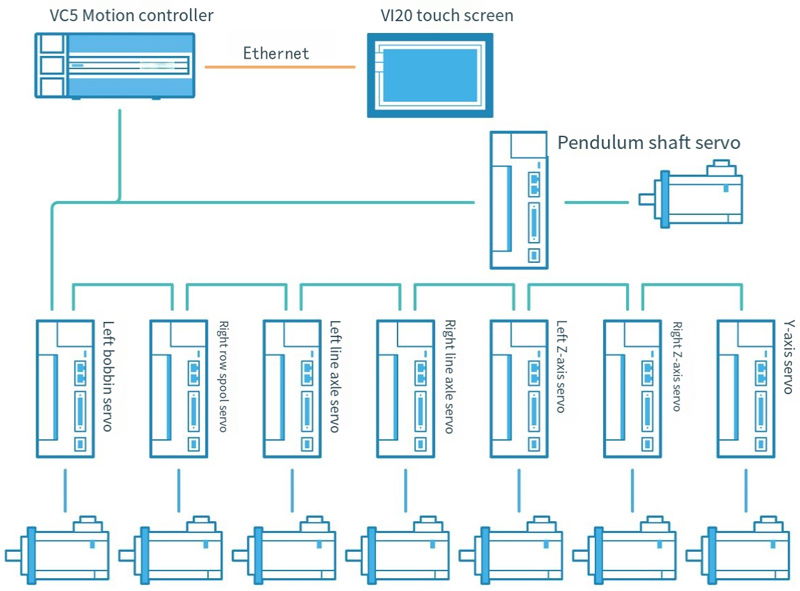 Jade and Gemstone Wire Cutting Machine System Solution
Scientific Structure, "Expert-Level" Precise Drive
Wire Arrangement Mechanism: Intuitively set electronic cam relationships, scientifically transmit drive commands.
Wire Winding and Unwinding Spindles: Coupled and controlled by the swinging spindle, quickly adjust winding and unwinding ratios.
Feed Mechanism:
After calculating the spool diameter, freely switch between synchronous and swinging dual modes.
Y-Axis Mechanism: After cutting, manually adjust the forward and backward cutting amount.
Swinging Arm Mechanism: Achieve high-precision constant tension with fluctuations within 0.2N.
Combining Operations for Enhanced Efficiency and Stability - "Dual Upgrades"
By utilizing the reciprocating motion of a diamond-coated wire with a cutting speed of up to 900m/min, its utilization rate is greatly improved. The winding and unwinding of the wire are controlled to achieve stability within ±3° of swinging arm fluctuation using high-performance algorithms. Based on the wire winding and unwinding templates, and with the control of the lifting axis for material feeding, precise and efficient cutting of jade and stone is accomplished.
Efficient Algorithms, Optimal Process Control
Through the integration of intelligent technology with cutting scenarios and processes, a unique and efficient process algorithm has been developed. It accurately calculates the running trajectory of each position, achieving precise process control automatically.
Independent Research and Development, Steadfast Progress
VC5 Motion Controller
The VEICHI VC5 series, a new generation of high-performance small PLC with a bus architecture, employs dual-core technology, possessing robust motion control capabilities. With a rapid communication cycle of up to 250μs and synchronization time accuracy within ±80ns, it enables precise control for jade and stone cutting. Supporting up to 48 real axes of EtherCAT bus motion control, it meets the axis requirements and stringent cost control demands of jade and stone cutting processes.
VI20 Touch Screen
VEICHI VI20 series, a new generation Internet of Things human-machine interface, can enjoy complete industrial Internet of Things cloud platform services with optional FLink IoT module. It features an industrial ABS plastic casing with advantages of low cost and high reliability. The high-definition, high-brightness LCD display provides a maximum viewing angle of up to 170°.
SD700 Servo Drive
The VEICHI SD700 series high-performance servo drive has a response frequency of up to 3.0kHz, quickly meeting cutting dynamic response needs. Velocity observation and load inertia identification significantly enhance cutting trajectory tracking accuracy.
SD710 Servo Drive
The VEICHI SD710 series universal servo drive inherits superior performance from VEICHI products, with dual upgrades in hardware and structure, reducing the volume of the 5R5 model by 30%. With an extremely high servo response frequency and powerful bus configuration, it meets the rapid response requirements of jade and stone cutting processes.
VEICHI V7E series high-performance servo motor comes with a standard 23-bit absolute encoder, achieving precision at the forefront of the industry. Designed with a 10-level 12-slot structure, it boasts characteristics of high speed, strong overload capacity, and high precision, fully meeting the requirements of the jade and stone wire cutting machine.
In the future, VEICHI will closely follow market demands, relying on automation platforms and in-depth understanding of industry processes. On one hand, it will continue to increase research and development investment to provide various industries with more professional system solutions. On the other hand, it will accelerate expansion towards digitization and intelligence, assisting customers in achieving comprehensive improvements in production efficiency, overall energy efficiency, and enterprise benefits!
Contact us
Start your sales inquiry and an expert will connect with you, please
contact us
.
You may also be interested in