Solar Aerator Solution
Overview
Features and Benefits
Related Products
Related Cases
Related News & Events
Related Solutions
Contact us
Solar Aerator Solution
Solar aerator system is a kind of water treatment system specially designed for water purification and water quality improvement of rivers and lakes. The use of solar energy as a power source, with low operating management cost, good effect of oxygen, large flow, anti-blocking, long life, and low operating noise characteristics. Widely used in urban rivers, artificial lakes, and natural lakes.
Solar aerator system is suitable for aquaculture, and fish pond oxygen. In the practice of water body restoration, it has obvious effects on water body reoxygenation and water body circulation.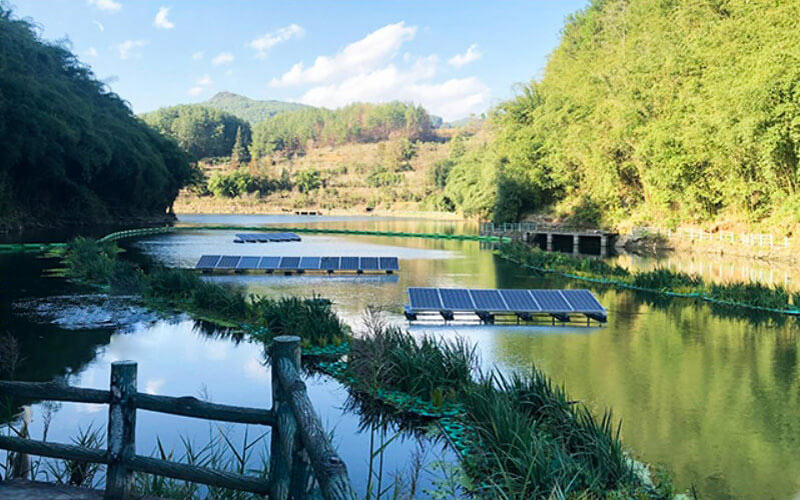 Features and Benefits
Solution Advantages
Easy to Install & Operation
The system is easy to install in rivers or nearby and will automatically aerate the water according to the sunrise and sunset to achieve unattended operation.
Free Emission
The initial energy of the system comes from the sun. And during the system operation daily, there is nearly zero CO2 emission and friendly to the environment.
Cost Effectiveness
Based on the more than 15 years lifetime-circle costing calculation,the solar powered aerator system will reduce maintenance cost and system cost compared with the traditional aerator solution powered by grid or battery.
Reliability
It is based on three kinds of proven technology such as solar modular, solar pump drive and pump facility. The working lifetime of the system will be more than 15 years.
VEICHI Solar Aerator Solution
VEICHI solar water pump inverters are high-efficiency solar water pump controllers which can make full use of solar energy to drive water pumps for agricultural irrigation, water supply system, fountains, groundwater lowering, solar aerator and etc.
Challenge
Many of the water systems that keep ecosystems thriving and feed a growing human population have become stressed. Rivers, lakes and aquifers are drying up or becoming too polluted to use. More than half the world's wetlands have disappeared.
Today, 41% of the world's population lives in river basins that are under water stress. Concern about water availability grows as freshwater use continues at unsustainable levels. Furthermore, these new faces also need food, shelter, and clothing, thus resulting in additional pressure on freshwater through the production of commodities and energy. A healthy and accessible water environment is an important guarantee for the sustainable development.
Solutions
Therefore, it is our responsibility to take needful measures to repair and improve the river ecological environment. Several successful river ecological restoration measures can be taken such as underwater forest, ecological floating wetland and solar aeration.
Doing Business
VEICHI Electric offers professional advice and application design from our solar water pumping system experts to support OEMs, system integrators and industrial users. We also provide customized solutions for hardware and software that enable seamless integration and a range of features that optimize the total system.
VEICHI Electric is a leading supplier of solar water pump drives for the agriculture irrigation. More than 150,000 VEICHI solar pump drives from 2017 to 2021 are providing optimized efficiency for pump irrigation with reducing carbon dioxide emission by 0.69 million tons.
VEICHI Electric will continuously contribute positively to the creation of a beautiful global environment.
Contact us
Start your sales inquiry and an expert will connect with you, please
contact us
.
You may also be interested in